As an update to my post from yesterday, homicide detectives just came to my door to ask if I had any information about the homicide that apparently happened around 2:30 AM Sunday morning. A man was beaten to death and was calling for help, but nobody came to his rescue.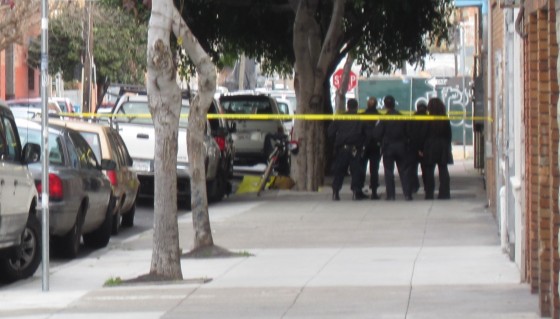 If you know anything about it, the SFPD flyer has the following information:
On Sunday morning 02/19/12, sometime between 2:00 a.m. and 3:00 a.m. a man was robbed and then murdered in front of 125 Jullian, [sic] between 15th st, and 16th st . We ask anyone in the area of this street and the blocks surrounding it who saw or heard anything to contact S.F.P.D. YOU CAN REMAIN ANONYMOUS: TIP LINE 415-575-4444

Anyone with information regarding the circumstances surrounding this incident is asked to call Inspector John Cagney of the SFPD Homicide Detail direct at (415) 734-3181 or during business hours (415) 553-1145 (Weekdays from 9AM-5PM) you can also call after hours the SFPD Operations Center at (415) 553-1071, or the anonymous tip line at (415) 575-4444

Refer to Case #: 120139612
UPDATE: Mission Local has more about the stabbing death and the people who heard the victim's cries for help and did nothing. It's a complicated scenario, when people become used to walking past others in various forms of distress at all hours of the day. A commenter on ML brings up the famous Kitty Genovese case, which this obviously resembles. A man is beaten and stabbed, cries out for someone to call the police, and dies a slow death on a heavily trafficked sidewalk, where his body remains for maybe nine hours.
I've lived in the Mission for a long time and seen a lot of people in pain. It's often not clear if there is anything I could do to help them. I've intervened a few times, and I'd like to think when I specifically hear the words "help" or "police" I'd take action. But at the same time, there's so much drama every day. Two weeks ago on Capp Street a man was yelling at the top of his lungs for someone to call the cops. When I ran outside I found two men who knew each other and were arguing over something petty. They both seemed like they were high, and neither seemed to be in any danger. I was pissed that they tried to involve me in their dispute and yelled at them and they dispersed. Nevertheless, the fact is that one man was calling for help for probably five minutes before I got out there and nobody did anything.
It's very sad that this man wasn't able to be saved, and the reasons why, no matter what anyone says, are very complicated.
UPDATE 2: Mission Local now reports that the cause of death is now unknown. He has been identified as Richard Sprague, 47 of San Francisco.