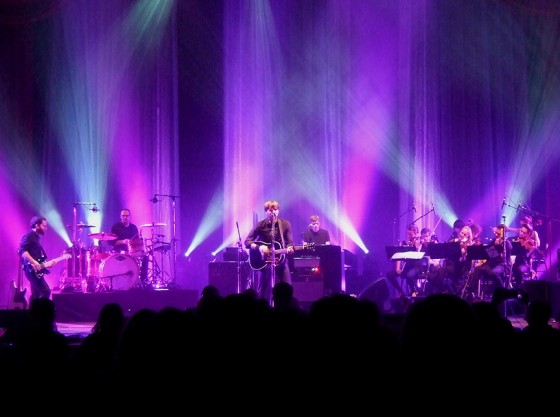 World's biggest indie band Death Cab for Cutie tapped local talent for their current U.S. tour, which wraps up next week. We had a chance to talk with Death Cab's Jason McGerr about their upcoming swing through town and working with the Magik*Magik Orchestra, a local group of classical musicians led by conductor Minna Choi that have been collaborating with acts like John Vanderslice and The Walkmen since 2008.
To win a pair of tickets to the Thursday, May 10, show, give us your best reason you deserve to go in the comments section. Winner will be chosen based on merit. Contest ends at 4 P.M. on Tuesday.
MM: You guys are playing the Fox Theater. Have you played there before? We're very proud of it.
JM: No, I've heard nothing but amazing things about the Fox and the way it sounds. We really lucked out on this tour. Because we're playing with Magik*Magik Orchestra we haven't done as many general admission rock venues as we have big beautiful classic theaters that are designed with acoustics in mind. It's been a real treat to be out here and hear music differently. It's a whole new experience.
MM: How did you get introduced to the Magik*Magik Orchestra?
JM: Minna Choi did the arrangements for a few of the songs on our new record. Before that, I think in the history of the band we've had maybe one cellist on one song, but having more full string arrangements sounded so much more full and beautiful. Afterwards we invited Minna and four string players down to an event we were playing and had them perform, not only the two songs on our new record that they played on but also some back catalog songs that hadn't had strings before and it was such and amazing experience that it was like, alright, make a note of that, this is what it feels like to play with strings. So that planted the seed.
MM: Tell us about the tour. How has the collaboration changed the dynamic on stage?
JM: Before the tour, Minna worked on arrangements and just kind of emailed back and forth with Chris [Walla]. They [Magik*Magik] were super professional – they had their charts and were all ready to go.  Honestly the first time we played with them was like two days before the tour, and already it's been incredible. They bring a ton to the table. They make me use my ears more. Playing in your standard four piece rock band, I know where everyone is, but sometimes I don't really hear it, you know? So it's a heightened sense of awareness to have these people on stage with really incredible dynamics. I feel like I just got accepted into Julliard.
Death Cab plays the Fox Theater on May 8, 9, and 10. They plan to hit up Cancun and drop by Tiny Telephone to hang out when they don't have to work. After the tour wraps up, they head to Europe and Japan. Sounds pretty fun.
[photo]