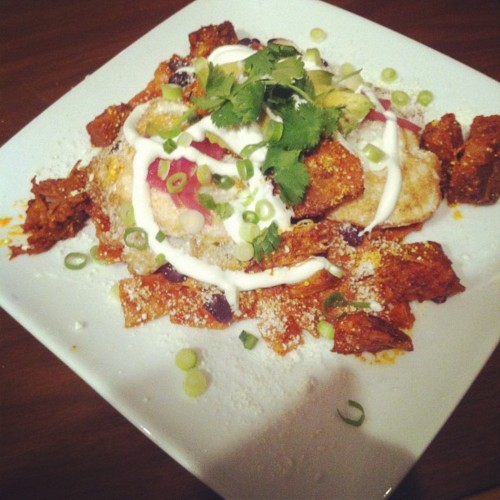 Holy moly. Okay, you know how Dear Mom's kitchen made that awesome French-style hot dog and a bunch of other French stuff? That's all over. Fogcutter is taking over, and I'm hoping this means their savory Olive Oil Waffle (basically a big fluffy waffle with a big delicious salad and a couple of poached eggs on top, and bacon if you want it) will start making appearances outside of pop-up Sunday brunch. But I'm happy either way, because everything these guys do (including the "Chupacabra" pictured above) seems to rule.
I'm thinking the thinking here is that this stuff might prove more bar-friendly than all that serious French stuff, but here's the official announcement from Dear Mom's Jay Beaman:
Hey you guys. Y'all have probably noticed some changes in the Dear Mom kitchen lately and we figured it's time to let everyone know what's been happening and what's gonna happen and other whatnots. After helping us launch the kitchen program, our pal and total all around french chef badass, Laurent Katgely is returning his focus to Chez Spencer and other projects. Our slice of the mission kitchen space is now being taken over by Guillermo Perez and Caroline Hummer; also known as the scrappy duo who stuffed your faces out of the Fogcutter food truck and various pop-ups at Dear Mom over the last year.
Perez has been working in restaurants for over fifteen years, most recently with Todd Humphries and Kelly McCown at Martini House in St Helena, and downtown at Hiro Sone's Ame. Perez and Hummer have both been working in street food for the past two years. They helped open The Chairman food truck in 2010, and in 2011 launched their own truck, Fogcutter.
These two are bringing that street food mentality to Dear Mom, prepping a menu with full on fat man (big plate) dinner food and all kinds of items that can be eaten standing up. Think American, Asian and Latino bar bites. Start your lemon juice cayenne pepper fast now because August 1st you're gonna want to go too far. And by too far, I mean just far enough.
Can't wait!
P.S. R.I.P. awesome French-style hot dog
P.P.S. But yeah here's a picture of the Olive Oil Waffle, oh man…