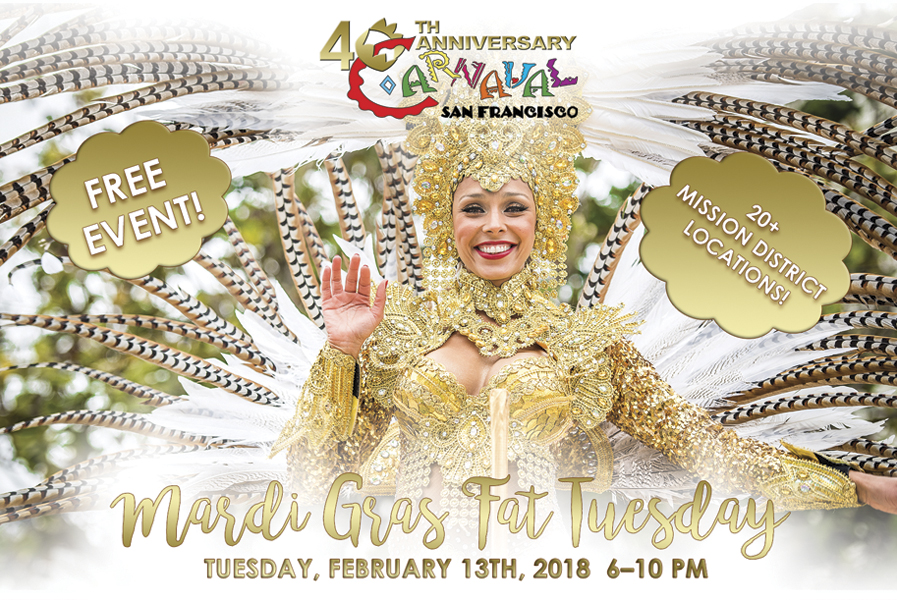 This Tuesday, come meet your neighbors and make new friends at the 40th Anniversary Carnaval San Francisco Fat Tuesday Mardi Gras Party in TWENTY-ONE (21) venues in the Mission District including Pops Bar! Come enjoy live samba drummers, dancers winding their way through the party, and lively music from salsa and soca to cumbia and rumba, so don't miss out on the fun. Wear your costumes, masks & beads and join us in celebrating Fat Tuesday in true Carnaval San Francisco style!  Pops Bar will feature DJ Bobby A from 6-10pm.
Visit the website for all details of the annual Carnaval San Francisco season!
Check out this week's full entertainment line up at Pops Bar:
2/12/18 MONDAY
Monday & Chill
Come join us for drinks at your favorite neighborhood bar.  Streaming non stop good times since 1937.
2/13/18 TUESDAY
MARDI GRAS FAT TUESDAY
6-10pm
A Fat Tuesday fundraiser for CARNAVAL San Francisco with DJ Bobby A at Pops Bar
2/14/18 WEDNESDAY
Happy Valentine's Day!
Rude Awakenings
6pm-9pm
Rude Awakenings:  Forgotten underground classics of the 60′s, 70′s and '80′s, with DJs Cathy 2-Tone and Scooter Stalin
Down to Funk
9pm-2am / No Cover
Down To Funk is a new monthly at Pop's Bar featuring funky grooves and soulful rhythms that will make your booty shake and your head nod. Resident DJ's Mooselini the Soul Fascist (Mustapha Popal), Ohhellnoel (Noel Dunlap) and D.Hop (Dave Hopkins) will be providing the soundtrack for the night.
2/15/18 THURSDAY
DJ Mobando
Happy Hour Entertainment 6-9PM with DJ Mobando and friends. DJ Mobando brings a mixed bag, incorporating funk, hip hop, salsa and Afrobeat into his energizing sets. Whether its an all vinyl set or he's digging through the digital files, he always unearths musical gems.
2/16/18 FRIDAY  
Haight Street All Stars
6-9pm
If you are looking for a good time, Todd's rock and roll band, "The Haight Street All-Stars" will exceed your highest expectations. Featured at the Haight Street Fair this year, the blues/rock sensation, "The Haight Street All-Stars" will keep you dancing throughout the night. Playing songs to the likes of James Brown, B.B. King, Aretha Franklin, Albert King and many more. "The Haight Street All-Stars" are fun from beginning to end. Come on out to enjoy some soul in San Francisco !
Roger Niner Karaoke
9PM-1:30am
"Roger Niner is back in The Mission… at Pops! And he's bringing his big ole' book of rare and unheard karaoke tunes! Find and sing a new favorite or a long forgotten oddity! Karaoke like you never left the basement of your parents house! We go until they tell us to shut the hell up! Check out the songbook at book.rogerniner.com, and PREPARE!"
Web: www.rogerniner.com,
Facebook: Roger Niner Karaoke
Twitter: @rogerniner
Instagram: @rogerniner
2/17/18 SATURDAY
Brunch Mob
10am-3pm
with DJs Milton Badley and Snelly Davis Jr. Soothing classics to accompany your Bacon Bloody Mary.
The Rec Department
Nothing But Slap All Night
feat. The Rec Dept & Special Guests
9pm-2am
No Cover
2/18/18 SUNDAY
Brunch Mob
10am-3pm
3 words: Bacon Bloody Mary
SPILL THE WINE
CUMBIA * CHICANO ROCK * LATIN SOUL * BOOGALOO
DJs Vinnie Esparza, Guillermo & Slopoke
5PM-10PM
No Cover
21 UP
POPS BAR
2800 24th Street @ York
San Francisco, CA 94110