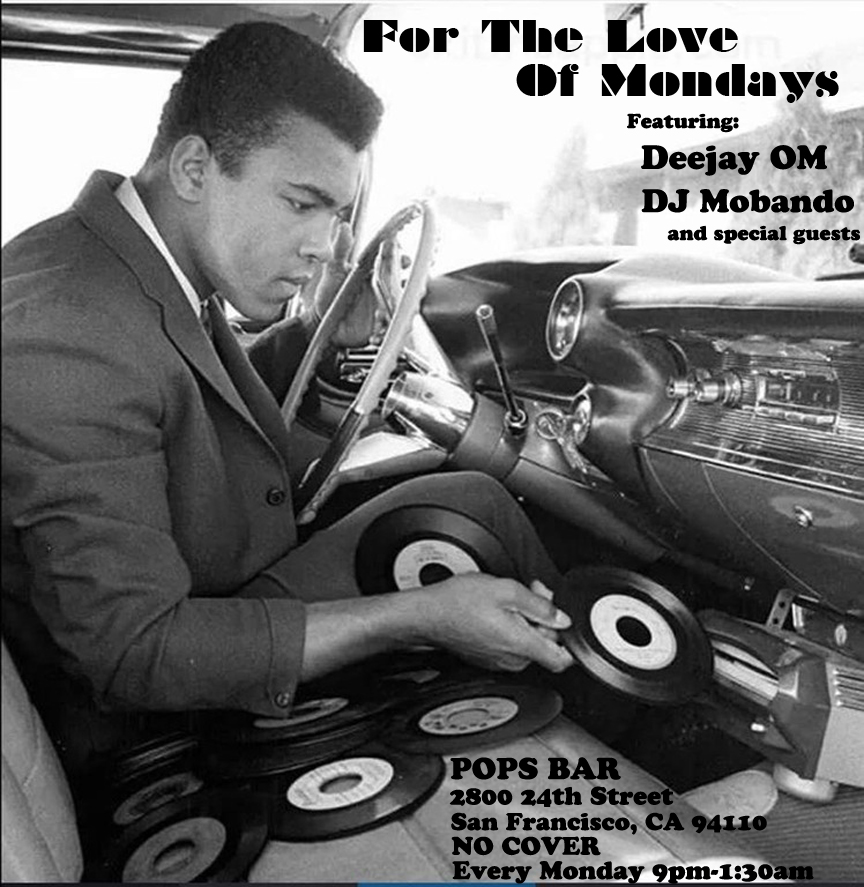 For the love of Mondays is a new special weekly party at Pops Bar brought to you by two of the bay areas most intrinsically in-the-groove folks, Nathan Ghio and Benezra Tergis aka DJ's Om and Mobando. Spinning a vast majority of wax spanning myriad genres and featuring a host of local guest DJs, this weekly event seeks to bring new light to the darkness that is associated with the first day of the official work week.  It the start of work week for some but also the Saturday or Sunday of many of us.  So expect a mix that's extra vibey and always listeners choice.
About your DJs:
DJ Mobando is a 3rd generation San Francisco native who comes from a large and music family. He began playing professional piano at the age of 12 and has continued to play music ranging from Salsa, Reggae, Funk and Balkan music in various groups.  He has been DJ ing for about 6 years, and loves to share music from his extensive record library.
DJ Om is a native of Berkeley CA, and is likely the most knowledgeable 45 collector you will ever come across. He loves to put the needle to the groove, and excels at finding that super jam that you always wish you could hear but never knew existed.  Expect a heavy dose of musical education in his sets.
Bring your dancing shoes!
Check out this week's full entertainment line up at Pops Bar:
2/19/18 MONDAY
DJ Alex Dewall
Rockin' out early '60s & '70s CLASSIX: Beatles, Kinks, Stones, Hendrix, Doors, CCR & many more!
No cover / 6pm-9pm
For The Love of Mondays
featuring DeeJay OM, DJ Mobando and special guests
Every Monday from 9pm-1:30am
No Cover
2/20/18 TUESDAY
Trivia Tuesdays
Pops Quiz
8:30-10:30PM
Join us every Tuesday of the month and test your wits at Pops trivia night "POP's Quiz" where your brain may get stump on categories such as Pop's culture, Sports, Movies, Music and more, with little snippets of audio and visual effects too! So come on in for some good ole fashion competition and a night of drinking with the crew!
MUSIC THERAPY
Electro-Cumbia Breaks, Hip Hop, Nu Latin Beats
9PM-1:30am
No Cover
21 UP
2/21/18 WEDNESDAY
Sound of Confusion
6-9pm with DJ CityHobb and DJ Brian. Punk, Post-Punk, Synth Wave Forms, Garage Rock, Rhythmic Blues & Purple Psychedelic Carnage.
2/22/18 THURSDAY
DJ Rick
Happy Hour entertainment 6-9pm with DJ Rick spinning funk, hip hop, soul and rock
BFF.fm Night Presents Hang The DJ
Post-Punk & New Wave w/ ZeroOne
Join us for a night of post-punk, new wave, and synth-pop jams every 4th Thursday at Pops Bar.
Plus:
Late-night soul & R&B throwbacks after midnight.
9PM to close
No Cover
21UP
2/23/18 FRIDAY  
DJ Sektor
Happy Hour 6-9pm with DJ Sektor
CUFFIN
AN ALL THANGS R&B PARTY!
We are bringing past, present, and future R&B to you
Cuffin season is EVERY SEASON
Tunes:
AMP
Jon Reyes
Boogie Brown
Follow us on IG: CuffinSF
No Cover
9pm-2am
21+
2/24/17 SATURDAY
Brunch Mob
10am-3pm
with DJs Milton Badley and Snelly Davis Jr. Soothing classics to accompany your Bacon Bloody Mary.
Patch & Rita
Happy Hour Entertainment 6-9PM with Patch & Rita
Who could resist this dynamic duo, with their sonorous adventures into the deserts of early 20th century songwriting? If you've got a hankerin' for some rootsy boot-stompin' tunes about whiskey and cheatin' women, then this is your place. Patch & Rita throw down some tunes like this coast has never seen, and you'll leave stomping your feet, we promise.
BLOWIN' MINDS
MELESWAVE DJ SET ALL NIGHT
A dance party playing 80′s 90′s 2000′s Rap R&B Afrobeat Reggae hits.
Restoring the feeling and breaking records all night!
9pm-2am / No Cover
2/25/18 SUNDAY
Brunch Mob
10am-3pm
3 words: Bacon Bloody Mary
La Piñata
The perfect blend of Electro-Cumbia, Breaks, Hip Hop, and Nu Latin Beats ready to be scooped up. Every 2nd, 3rd and 4th Sunday of the month with DJ Clave spreading the beats from 5-10pm. Free Salsa, Cumbia & Merengue Dance Lessons from 5-6pm with Colombian dance expert, Natalia.
POPS BAR
2800 24th Street @ York
San Francisco, CA 94110