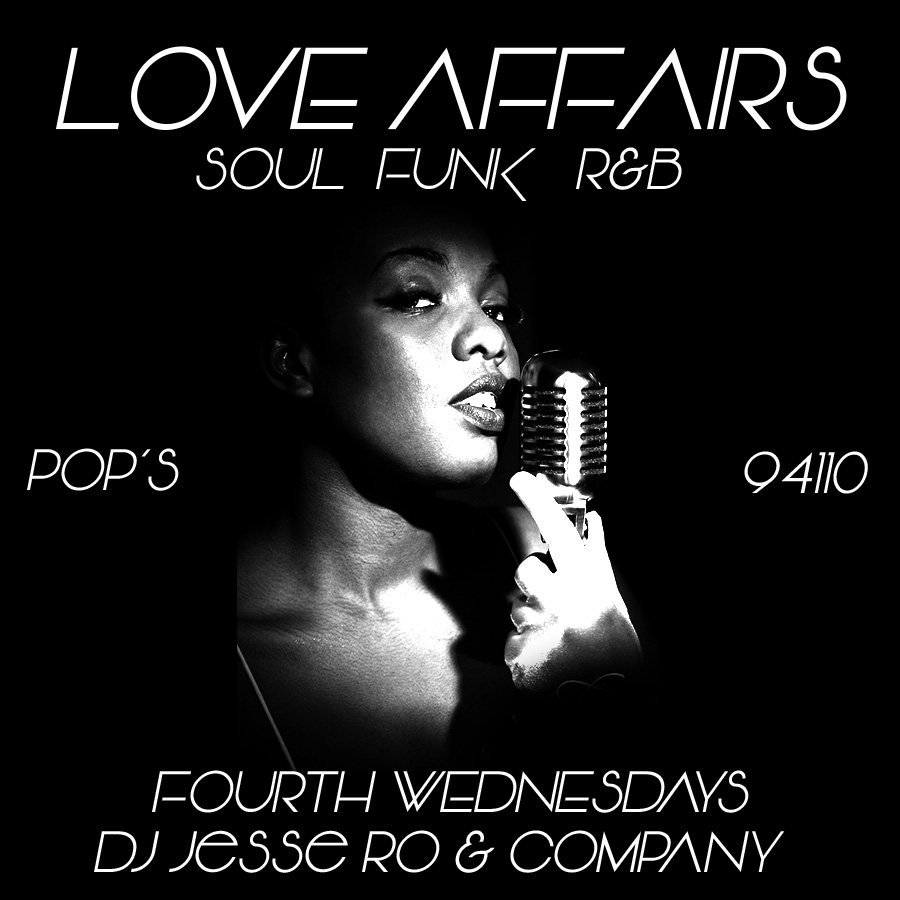 There is nothing better then a good mid week party to get you over the hump and towards the weekend.  This Wednesday at Pops Bar join us for a love affair with Soul Music all night.  DJ Matty Holt takes you through happy hour starting at 6pm with Sterling Soul Night.  Followed by DJ Jesse Ro and company at 9pmspinning Soul, Funk and R&B at Love Affair.  Music to feed your soul and drinks to keep you warm, share your Wednesday night with us enjoying the neighborhood.
Check out this week's full entertainment line up at Pops Bar:
2/26/18 MONDAY
Not My Place (In the 9 to 5 World) Happy Hour
6-9pm No Cover
NOT MY PLACE (IN THE 9 TO 5 WORLD) HAPPY HOUR
resident DJ Nutzeffekt (American Tripps)
Rock 'n' roll old and new, all vinyl
Jack pouring drinks
4th Mondays from now on
2/27/18 TUESDAY
Trivia Tuesdays
Pops Quiz
8:30-10:30PM
Join us every Tuesday of the month and test your wits at Pops trivia night "POP's Quiz" where your brain may get stump on categories such as Pop's culture, Sports, Movies, Music and more, with little snippets of audio and visual effects too! So come on in for some good ole fashion competition and a night of drinking with the crew!
MUSIC THERAPY
Electro-Cumbia Breaks, Hip Hop, Nu Latin Beats
9PM-1:30am
No Cover
21 UP
2/28/18 WEDNESDAY
Sterling Soul Night
Soul/R&B/Doo Wop/Girl Groups ALL 45s
with Matty Holt and guest DJs
6-9pm
No Cover
Love Affair
Soul Funk R&B with DJ Jesse Ro and Company
9pm-2am
No Cover
3/1/18 THURSDAY
Alabasters Record Collection
Happy Hour Entertainment 6-9pm with Alabasters Record Collection. All Vinyl All The Time. Eclectic, Rock & Roll, Punk, Indie, 80s & Whatever.
Loud and Local 
LOUD & Local presents a monthly bar night to benefit BFF.fm, featuring awesome live bands and guest DJs every month.
21+ / 9pm - close / FREE (donations for BFF.fm collected at the door)
3/2/18 FRIDAY  
Uncle Rifkin
Happy Hour Entertainment 6-9PM with Uncle Rifkin
Uncle Rifkin is a 4-piece, mostly-acoustic, homegrown San Francisco band, mixing up styles into a beaker that just might make you dance. Their style ranges from stripped down country to blues, rock, & folk, all with a funky edge and a storytelling vibe that gives them their own style, rooted in americana music.
First Frydays
9pm-2am
With sounds by Mayje & Coldsoggyfries
The lastest and most lit Hip-Hop / R&B in the city!
No Cover
21 UP
3/3/18 SATURDAY
Brunch Mob
10am-3pm
with DJs Milton Badley and Snelly Davis Jr. Soothing classics to accompany your Bacon Bloody Mary.
The Kevin Conness Band
7-9pm
Soulful, Down-tempo, groove collective with
Kevin Conness – Guitar, Vox
Jason Braatz – Bass
Charlie Giesige – Drums
CHAMPAGNE CAMPAIGN
with DJs Sake One
A true veteran of the Bay Area hip hop and music scene, DJ Sake One is a born and raised renaissance man, known to doing anything from community projects to opening up for big acts such as Mos Def or Kanye West. Whether it's soulful lounge tracks or bass-filled remixes, his talent and musical palate does not discriminate.
9:00pm-1:30am
No Cover
21 UP
3/4/18 SUNDAY
BRUNCH MOB
10am-3pm
3 Words: Bacon Bloody Mary
Spill The Wine
5-10pm
CUMBIA * CHICANO ROCK * LATIN SOUL * BOOGALOO
DJs Vinnie Esparza, Guillermo & Slopoke
No Cover
21 UP
POPS BAR
2800 24th Street @ York
San Francisco, CA 94110