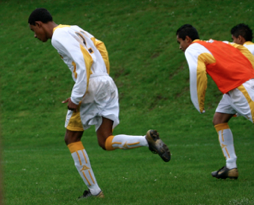 Last fall, writer Jordan Conn spent some time with the Mission High soccer team. This week, his piece was finally published by a magazine called Good Men Project. Here's how it starts:
The guy on the trophy looks white.
This much has been decided as the Mission High School soccer players pass around the statuette they've owned for four years running, the foot-tall piece of wood lined with bronze that represents their status as the best soccer team in the city.
The figure who sits atop the trophy, the one the players rub with reverence, the one whose company is coveted by all of the city's coaches—well, he doesn't look a damn thing like his current owners. His hair is parted perfectly to the side, too long to match Jose Guevara's close-cropped spike and too neat to resemble Diego Tamayo's faux-hawk. His jersey looks like it belongs on an Ivy League rugby player, with its plunging neckline and its collar folded down.
And the shorts?
"Those things are hella short," says Jose Mendoza, laughing as he points. "You can't be wearing those around here."