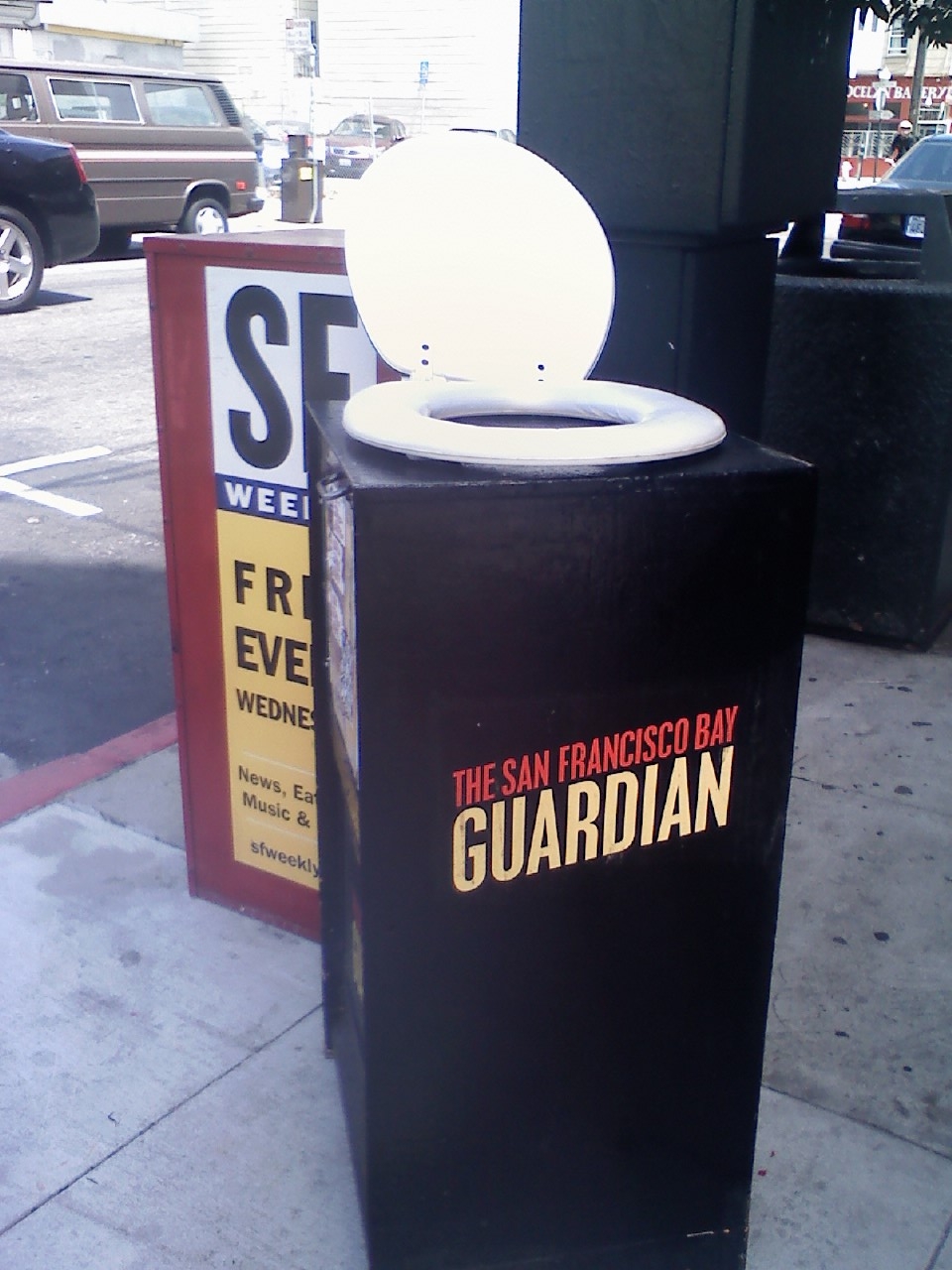 Broke-Ass Stuart
Neighborhood blogs were growing in importance and the idea of The Mission having it's own hyperlocal website seemed perfect. It documented all the weird little victories and failures that transpired in our little corner of the world. From Kink.com filming a porn in Arinell Pizza to Steve Jobs getting turned away at Flour and Water to a woman shitting on her own apartment building, Mission Mission was there to cover it all and share it with a little snicker. Mission Mission quickly became the neighborhood's living room and so many of the people who lived in the area took an active part in the blog by sending in their own tips and by being cranky ass commenter on the posts.
While the Mission has changed vastly since those times, Mission Mission is still here giving us the dirt.
Mission Mission to celebrate its 9th anniversary this weekend by Stuart 2/9/2016
 Roll Over Easy (on BFF.fm)
If you're sleepin' on Mission Mission, stop it, knock it off. You gotta be checkin' out missionmission.org. It's got all the pertinents about what's happening around the Mission. It's one of the sites that I always point people who are new to San Francisco to. Ten times out of ten you go, "Hey, I'm new here," I go, "I got a few sites you need to check out." Mission Mission's atop that list.
"You Oughtta Know: New Media" segment by Chris Bunting Roll Over Easy, 7/24/2014 (1:36:50)
 The Guardian (UK)
Focusing on the vibrant Mission neighbourhood, this equally lively blog has been churning out posts since 2007 for a predominantly 20-something, party-loving crowd. Sometimes posts are a simple as Flickr pic of a brunch spot, such as Boogaloos, but that can be all you need to whet your appetite (although the first person to leave a comment seems not to agree). Yes, there are plenty of hip hangouts in this part of town, but when Mission Mission tags its posts as "Being cool", it surely has its tongue in its cheek.
San Francisco: best blogs for travellers by Vicky Baker 5/24/2013
San Francisco Magazine
In this year's Best of the Bay poll we asked for readers' favorite San Francisco standbys. Here are the winners, according to 799 respondents.
[...]
Culture
MUSIC VENUE The Fillmore
NEIGHBORHOOD BLOG Mission Mission
CULTURE BLOG SFist
MUSEUM De Young
Best of the Bay 2012 Reader's Poll: The Classics 6/27/2012
The Bold Italic
Allan and his crew keep tabs on the most vibrant 'hood in town and deliver those tabs in multiple daily doses, double-dipped, always a good trip. Thank you, Allan, for being my meta-Mission dealer forever.
Online Romance by Wendy MacNaughton 1/18/2012
 SF Weekly
"Other sites try, and fail, to copy Mission Mission." — SFist Editor Brock Keeling
SF Weekly Web Awards 2011 Best Neighborhood Blog 9/2/2011
 San Francisco Magazine
[What? Also, what?]
The Mission goes boom by Justine Sharrock 11/10
SFist Editor Brock Keeling
"[T]his made me pee."
Comment on Mission Street Food 3/11/10
San Francisco Bay Guardian
[...] I love Mission Mission [...]
Why I love Mission Mission by Tim Redmond 11/10/09
MSNBC's Rachel Maddow
When I used to live in SF, I constantly fought the urge to steal thought-provoking street art like this.
Twitter @maddow 10/15/09
San Francisco Bay Guardian

Politics! Culture! Real-time crime reports! Drunken hipsters! Whether you want to immerse yourself in the gory and dramatic details of the proposed American Apparel store, suss out the latest renegade Sparks-and-empanada-flavored ice cream food cart location, revel in random pics of burnt mattresses on the sidewalk, or mock the Ritual Roasters laptop rodeo, of course you turn to the Mission Mission blog, our one-click West Coast answer to Brooklyn Vegan, Hipster Runoff, and Lookbook. (Forget Williamsburg, chumps, if you haven't already — the Mission does scruffy, authenticity-obsessed gentrification better than anyone else.) Nothing is safe from the Mission Mission crew — no new bar, no new bar sign, no new bar sign misspelling, no photo essay of said new bar sign being made from recycled hemp shoes and licorice drops by quirky Malaysian immigrant artists. In fact, Mission Mission is so comprehensive, you might never have to visit the neighborhood again, which could be the point.
Best of the Bay 2009 City Living: Best Virtual Mission 7/29/09
CBS5′s Brittney Gilbert
Way to go, Mission Mission! It's like 60 Minutes or some shit up in here.
Comment on Mr. Pickle Returned to Mama Pickle 6/1/09
SF Weekly
Imagine if your city newspaper had a story on a cool little piece of art that appeared on a local mailbox over the weekend. Then another one. And another. Would that paper survive? No, it wouldn't, so we guess Mission Mission won't be taking down old media any time soon. [You wish, bitches! --Ed.] Run by Allan Hough since 2007, the site does a fine job covering the graffiti, stencils, and weird art that show up everywhere in the Mission, but Hough also does whatever the hell he wants, such as detailing the bust of a hot-dog vendor or wondering whether a woman in a photo is a streetwalker. After padding Mission Mission with posts from other blogs referencing the 'hood, the result is a irresistible slice of our favorite ramshackle but lovable neighborhood — nice for those who live there; even better for those who do not.
Best of San Francisco 2009 Best Neighborhood Blog 5/09
SFist
Mission Mission is the Dateline NBC of San Francisco.
Hey, That's My Bike! by Brock Keeling 5/8/09
Curbed SF
Why do I love Mission Mission so much? Why is it so good? Why? Its like blog porn. Its just that good.
Thursday PM Linkage by anonymous commenter 3/18/2009
Broke-Ass Stuart

As we all know, there's a lot of cross traffic between San Francisco and New York.  If you live in one then it's almost guaranteed that you have friends in the other.  This holds even more true when discussing Williamsburg and the Mission; it's almost like they're first cousins. Sure one may be into Mariachi music while the other is in a Klezmer band, but there is some type of familial link there.  Or maybe it's just that they're both into really tight pants.  Regardless, many of us who live in one of these places, often misses the other.
That's why I'd like to introduce my East Coast fam to Mission Mission and my West Coast folks to Free Williamsburg.  Both of these sites have made it their business…no, their destiny, to bring you what's really going down in their respective hoods. So next time you're feeling melancholy for the other Hipsterville, USA, check out one of these websites so you can almost feel like you're there.
Williamsburg meet Mission, Mission meet Williamsburg by Stuart 1/14/2009
SFist
While we're too preoccupied with visions of Mission Mission's Allan Hough wearing extra-short gym shorts to formulate a stance on the issue, how do you, dear readers, feel about hipster couturier American Apparel moving into the Mission district?
Quasi-Creepy American Apparel Oozes to Valencia Street by Brock Keeling 11/3/2008
The San Francisco Chronicle's "Bronstein at Large"

I saw it on Mission Mission [...]
Tenant harassment reaches new heights in the Mission by Phil Bronstein 10/15/2008