Adam Savage, a Mythbuster/Mission resident, recently gave a tour of his workshop and boy is it something else. This is your chance to see it before AE's Hoarders catches wind of this video and sends in their crew:
His prop replica collection is incredible. He's built every kind of costume, weapon, and helmet from every movie you can think of. What's next, vehicles? I wouldn't be surprised if he's working on a Millennium Falcon down there.
Also, here's one thing that you can tell right away: dude has his workflow on lock. He designed and built custom toolboxes, cases, and shelves. His tool racks are on casters, and designed to make sure every tool is immediately accessible without moving anything else. It's seriously impressive. I can't even organize the icons on my desktop.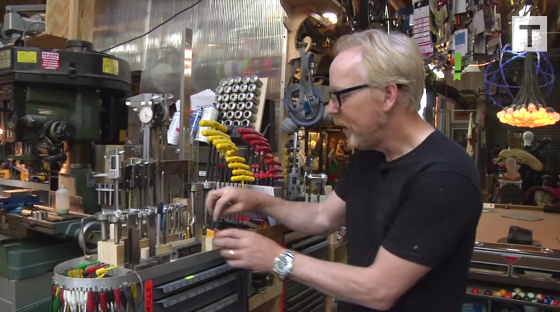 Adam mentions that there's a virtual tour on Google Maps, but the entrance is hidden as a manhole cover in the Mission, so I dug up the link for you. Let's just say it's probably not the actual location of the workshop, so don't try to go down there in real life. Look how well that worked out for those kids who died looking for Ninja Turtles in the '80s (ok maybe that was an urban legend):
Google Maps link (spoiler alert!)
Update: Called it. He is building a Millennium Falcon, along with an R2 unit: