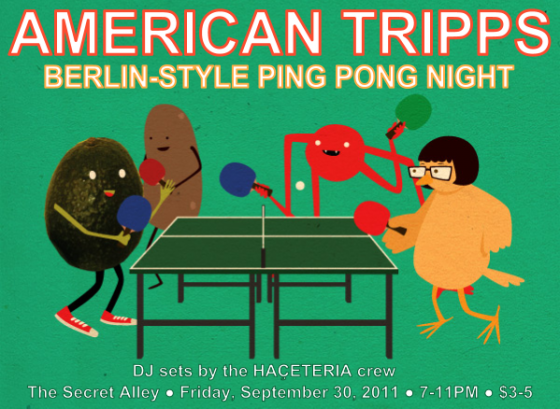 We're all really excited about how Berlin-style ping pong is taking the neighborhood by storm, and we're really excited to have the entire Haçeteria crew on the decks this week, and we're excited that this will be the final American Tripps before The Secret Alley undergoes a few interesting changes in October, and we're excited that our official photographer this week will be none other than The Tenderloin Geographic Society herself!
But what we're most excited about is this poster art by our pal Allison from C'mon Pony! Right!? Check out her characters' other adventures here, here, here, here, here and here.
Now RSVP and invite your friends here. And be sure to like American Tripps on Facebook for regular updates and surprises.
Also, there's a new set of photos up from last time, shot by our pal Jess Kelso. Clearly, American Tripps is a great place to hook upp:
UPDATE: Plus, apparently over at Fun Cheap SF you can "win tix."