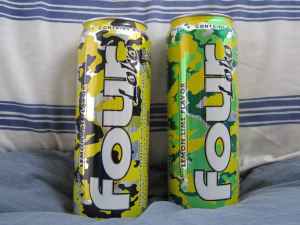 Reader Krissy P. alerts us to this hot item:
2 cans vintage 2010 4 Loko caffeine + alcohol (mission district)
I have two cans of vintage 2010 Four Loko. This is the original formula, chock-full of alcohol, taurine, and caffeine–so powerful the FDA banned it. This is the original Tiger Blood, nevermind 7 gram rocks, Charlie Sheen was shotgunning cans of this stuff. I have one can of Lemon Lime flavor and one can of Lemonade flavor. They'll be refrigerated and ready for consumption. Best offer gets 'em. 21+ only please
I wonder why they're unloading 'em already. Think how much they'll be worth in five years! (Maybe they really really need a seven-gram rock.) [link]
Thanks, Krissy!
UPDATE: There's also a big feature and interview with Four Loko's founders making the rounds today. It's hell of long.