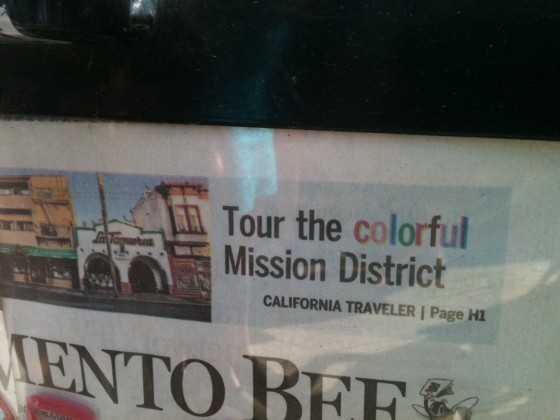 Our pal C'mon Pony spotted this Sacramento Bee feature in a news rack over the weekend, so we decided to look it up online. It's a pleasant read, and, surprisingly I guess, hipped me to something I had no idea existed:
Another unexpected pleasure (at least for the customers, if not the proprietors) is finding four specialty bookstores housed above a discount paint store on Mission Street. To enter, you must find a call-buzzer intercom, state your intentions ("Uh, to, like, browse for books") and wait to get buzzed in. Then you climb two flights of stairs and get to Vahalla Books (first-edition fiction), then climb one more flight to the troika of Bolerium Books (radical politics), Meyer Boswell Books (collectible law tomes) and Libros Latinos (scholarly Latin American and Caribbean books).
Upon entering Bolerium (motto: "Fighting Commodity Fetishism With Commodity Fetishism Since 1981″), co-owner John Durham looks at you with a mock stink-eye.
"Oh, you found us," he said, crestfallen. "We don't get many walk-ins."
Who knew? Read on.