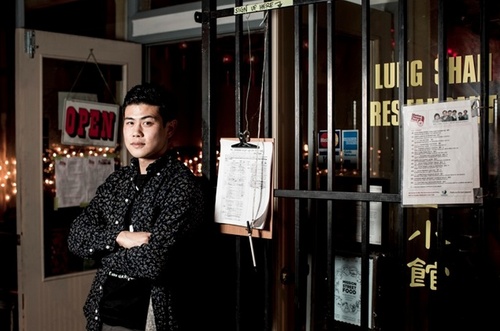 Eater SF's "The Gatekeepers" series this week sits down with Mission Chinese's Greg Wong:
What have you been bribed with? Mainly money. Usually if someone brings stuff it's gifts for the kitchen anyways, and people bringing gifts tend to be very relaxed and willing to wait. It's almost the opposite of what you'd expect.
What is the most outrageous request you've received? One time a lady walked past me and was like, "I'm here for Mission Chinese." I was trying to tell her, but she said "no" and acted like she knew what she was doing. She stormed through the restaurant saying "I'm here for the other restaurant." She grabbed her whole family and stormed through all the way to the kitchen. I think she was looking for this fancy other restaurant and she ended up at the bathroom. She must have read there was a restaurant in a restaurant, and we get that question a lot. But I've never had anyone dismiss me and then act like she had been here before.
Read on to find out about Greg's favorite customers, favorite dishes, VIP treatments and more.
[Photo by Aubrie Pick via Eater SF]