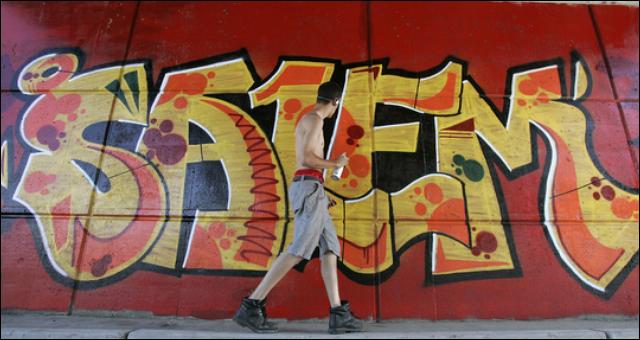 Cosmic Amanda, one of our favorite people we've never met, sends word from the east coast of a graffiti controversy so fiery it just might rival our own Clarion Alley bitch-ass taggers spat. From the Salem News:
A graffiti artist spray-painted the underpass of the March Street bridge earlier this month with a large red and yellow sign: "City of Salem … The Witch City."
The bridge, which crosses over the bypass road, was painted under the supervision of the Police Department and with the blessing of the mayor's office.
It was done as a community service project by a 17-year-old who was arrested for graffiti vandalism. It was intended, an official said, almost as a welcoming sign to the hundreds of motorists who drive that road daily to and from Salem.
But more than 30 residents of March Street Court and other nearby streets have signed a petition protesting the sign and demanding its removal.
"As residents, we are horrified that the mayor considered this to be appropriate for our neighborhood," the petition reads.