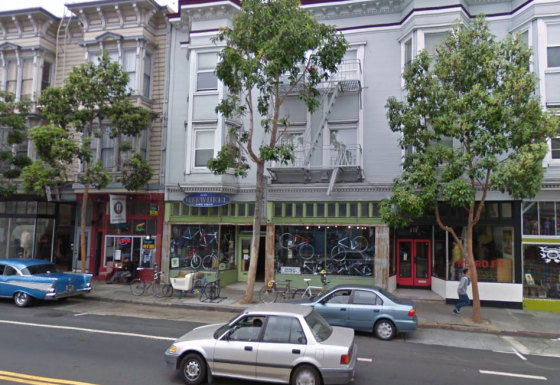 It's gonna go right here in front of Freewheel. Can't wait!
SF Great Streets is pumped too, but thinks we should all learn some rules:
A new parklet is being built on Valencia and 20th in front of Freewheel Bike Shop in the Mission. And many more will be coming to neighborhoods throughout the city this Spring, Summer and Fall. The demand for parklets is huge.
With all of these new parklets coming to the city, you might be wondering what the rules are. Who can use them? What can't they do? How do I get one for my neighborhood? How do I report misuse? Get the facts here, at the helpful FAQ we've put together.
Dang, we can't drink on parklets. BUT, all the other rules and junk sound pretty good.
Can't wait!
[Photo by Google Maps]