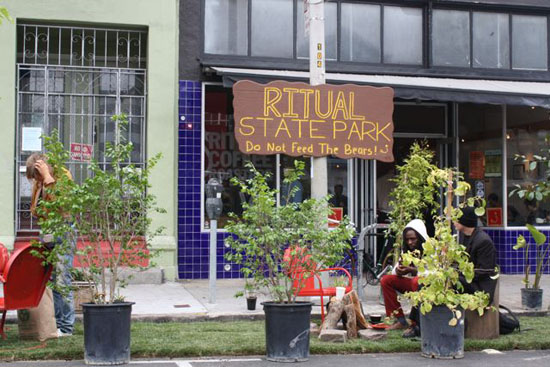 We mentioned the possibility last month.
Today, the Examiner explains why some NIMPS are seeking to block the the endeavor:
Neighbors' main complaint is the loss of parking spaces. The project outside Ritual Roasters, for example, would take up two spaces on the street.
Other people, however, worried that the seating areas would attract homeless people and drug use after business hours, and others were concerned that the areas are too close to traffic.
Laura Marcic, who lives next to Ritual Coffee Roasters, said she worries that the increased seating area will attract a crowd after hours, which will lead to more noise and trash.
"It's a gamble," she said. "I'm not all for it, but I'm a single mother and I can't take off work to protest at a hearing."
[via NBC Bay Area] [fun new acronym by SocketSite]