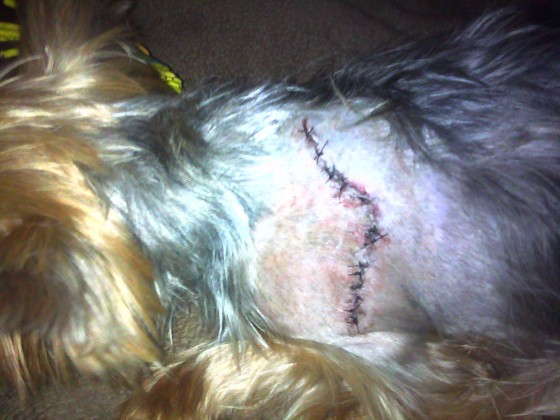 Reader Joel explains:
My 6 lb Yorkshire Terrier, Patti Labelle, was brutally attacked in Dolores Park yesterday evening (6/30/11) around 6pm by a black Pit Bull. Patti is doing okay now after an intense 6 hour trip to the SF emergency vet on 18th and Alabama (and $1100). She ended up with a 4 inch x 1 inch gash across the back of her shoulder and neck. The owner did provide her contact phone number and I am going to try it today, fingers crossed.
I have a friend who also had his dog attacked by a brown pit bull in Dolores Park yesterday as well. He had to take his dog to the vet, although the injuries were less severe.
Beware of dogs!
Here's Patti enjoying happier times prior to this incident: