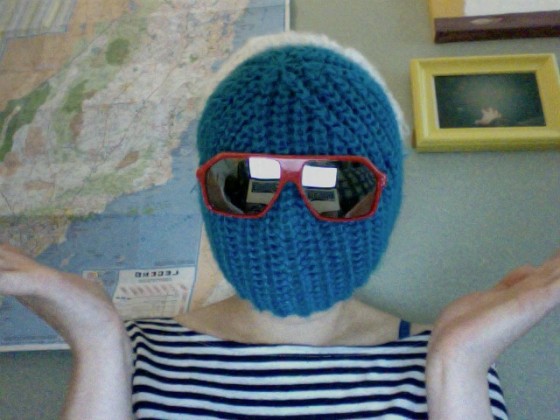 The other day we were lamenting how all our friends always move away, and somebody said something about how the reason for this is that it's so hard to "settle in financially" in San Francisco. Our buddy Sweet T (not pictured) took issue with this, and explains why in the happy little play below. Perhaps you'll see yourself in one of its protagonists:
The median income of SF households is $81k. SF households; not residents. Which means that if you and your roommate together make around $40k, you're at the median. Any ambitious, hip young thing out there with a four-year degree and a little ambition can find a "real job" with promotion potential that brings in at least $40k per year. Unfortunately, here's how it typically plays out:
We open on the El Rio patio, 4:30pm on a Tuesday.
Hip Young Thing: Man, this freelancing gig for the Guardian doesn't pay shit. I need to make some more money if I'm gonna' be able to pay me rent.
Less Hip, But Gainfully Employed Young Thing: You have a degree, right? There's gotta' be something else out there.
HYT: Naw, there's nothing in this economy.
LH,BGEYT: Well have you looked?
HYT: No I haven't looked. There aren't any jobs to look for.
LH,BGEYT: There are literally thousands of employers in the Bay Area.
HYT: I'm not a computer programmer or whatever. It's all techster shit.
LH,BGEYT: Not every job at a tech company is filled by an engineer, you know. Places like Zynga or whatever need copywriters and human resources people and all that, too.
HYT: That's corporate bullshit. I don't want to work for the man.
LH,BGEYT: Well, what about the state or the city?
HYT: I said I don't want to work for the man.
LH,BGEYT: I thought corporations were 'the man.'
HYT: They're all the same man, man.
LH,BGEYT: I see. What about a non-profit?
HYT: There's too much competition in this city for that type of work.
LH,BGEYT: Well have you applied to anything?
HYT: No.
LH,BGEYT: What did you do this morning?
HYT: I woke up a little after noon…
LH,BGEYT: …What time?
HYT: Like, 1:30. And then I went and had breakfast with some friends, and bought some new sunglasses. After that, I went home and wrote on my blog for a bit, and then I met you here for a drink.
LH,BGEYT: So, you didn't spend any time looking for a job that will pay you enough to make your rent?
HYT: There aren't any fucking jobs that don't suck.  I just need to move to New York. It's too expensive here.
LH,BGEYT: Yeah. It definitely is.
…AND SCENE…