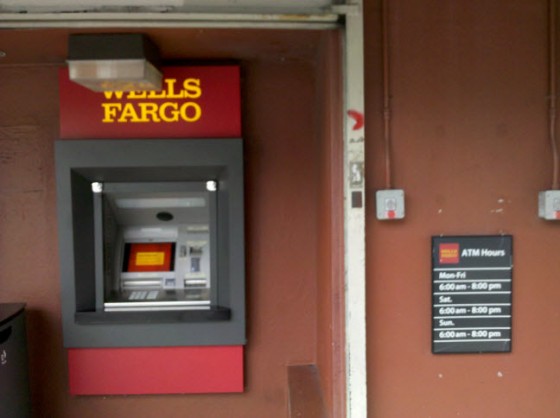 Concerned reader and resident Eric recently noticed that the Wells Fargo at 22nd and Mission quietly changed the hours of their ATMs to a new ridiculously inconvenient 8pm closing time.  Since we happen to live in a predominantly cash-only neighborhood when it comes to bars and restaurants, this makes it quite difficult for any Wells Fargo customers enjoying an evening out to avoid the $5+ penalty for using non-Wells ATMs (not to mention folks who work late and need to deposit checks).  After his repeated requests for an explanation from their @Ask_WellsFargo twitter program (which is for feedback on their ATMs) failed to shed any light on the issue, he finally found time to visit the branch to see what the deal was:
Turns out, they are turning off the Wells Fargo mission ATMs (22nd and Mission St / 16th Street and Mission St) at 8pm every night because of vandalism.  Their words "that neighborhood is a high crime area."  But they are not actually closing the gates to protect their machines; they just have the screens say "out of service" as to make it appear that nothing unusual is going on.  They are also not publicly saying what the ATM hours are nor, not even to the 1800 numbers you call to Wells Fargo services.  In the main system, these ATM's are listed as 24hr ATMs.  Amazing.

Took a while to get these actual answers when calling 1-800-869-3557 since everyone that I talked to had no notification that in the Mission, all ATMs have been closing at 8pm for the past 50days.  I am assuming Wells Fargo does not want this info getting out for even the twitter responses are "please follow us so we can send you a private message explaining the situation" which I obviously am not going to follow a bank's twitter feed.  And what I found out from the branch, they say they have no control of the ATM hours.
Does Wells Fargo hate the Mission?  We followed this up yesterday by visiting the branch ourselves and were told by the manager that the individual branches have no control over the new hours and that the new times came down directly from corporate.  Add up all these facts and something definitely smells fishy.  It's not merely the inconvenience of being unable to get cash after 8pm; it's the inconsistency of the explanations that truly inveigles us.  If you're trying to prevent vandalism, why aren't you closing the metal gate to actually protect the ATMs?  Have they just given up on our neighborhood?
Also, given Wells Fargo's recent history of scamming customers with "unfair and deceptive" overdraft charges and allegations that it illegally took advantage of mortgage customers during the subprime bubble, the idea that this is another calculated attempt by the bank to exploit its users out of some extra cash doesn't sound so far-fetched.
So Wells Fargo, what's going on here?