Our buddy Lindsey headed across the bay yesterday to join the fray and saw some wild sights. First there was the truck that floored it into a group of people: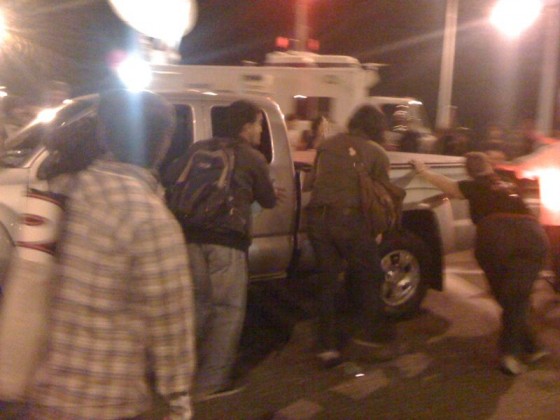 Then there was the line of fixed-gear hipsters waiting for tacos: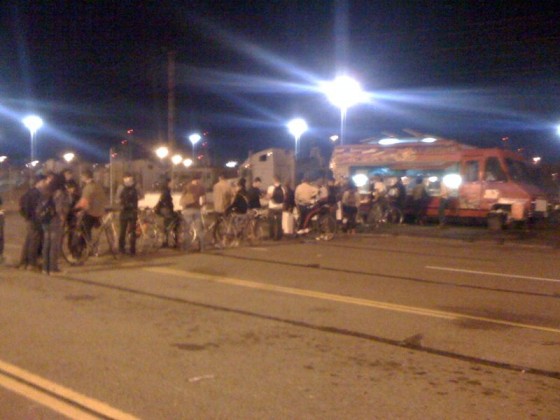 Oh and then she got teargassed. Here's how it started:
Lately, the idea of occupying foreclosed homes has been bouncing around. People have been saying a lot of things about a lot of homeless people, and a lot of homes without people. I am going to keep my opinion out of this, but nonetheless, it appears valid on paper. So protesters started "occupying" a foreclosed building on 16th, and I watched people bring in stacks & stacks of books to turn it into a makeshift learning community. Cool in concept, obviously never going to work. Word got out that cops were coming, and people started barricading 16th, along Broadway & San Pablo. Dumpsters, doors (???), newspaper dispenser things, all building a blockade. People started to get anxious about police presence. I was on the San Pablo side, but I looked over & saw that people had lit the barricade along Broadway on fire. I mean, come on. Enough is enough, people. Riot squads started pouring out of vans, and standing without action. I can't speak for what happened at the East end of the street, but on the San Pablo side, people started to try & provoke them. Graffiti, bricks through windows, broken bottles. It started to get so vandalism-centered, that when I heard the two booms from Broadway, I thought they were "protesters" dismantling something.
Whoa. It's a much longer story than that. Read the rest here. Quite an ordeal.
But the good news is it's working: