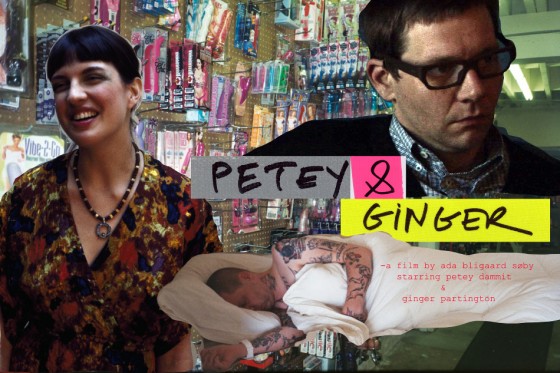 If you're a fan of Thee Oh Sees, you should see Petey & Ginger, screening at the Roxie this week as part of DocFest. Made for Danish television I think, it's a 60-minute portrait of the director's two American friends, one of whom is Oh See Petey. Its very loose thesis seems to be something about the American economy's effects on creative types in the '00s, but mostly it's fun to get a few little behind-the-scenes glimpses of Thee Oh Sees at work (and at play).
At the premiere on Friday, Petey was on hand for Q&A after the film. He'd just had four shots of whiskey — which seemed fair seeing as how it was his first time seeing this feature-length documentary about himself — so his A's were more entertaining than they were illuminating. I asked what it was like being able to leave his day job a few years back for a full-time job as a rockstar, and he giggled some and rocked back and forth a few times and slurred something about a European company buying the dildo distributor he used to work for. It was lots of fun. (Film festival rule of thumb: always go opening night for the Q&As!)
The movie is preceded by a short, Brute Force, about this musician Brute Force who worked with the Beatles for a second before slipping into obscurity. It stars him and his daughter, Daughter of Force, and shows what they're up to nowadays in NYC. This movie is a gem.
Here's Brute's big (long-lost) hit:
Both films screen again Thursday night at 9pm, at the Roxie. Get tickets here.