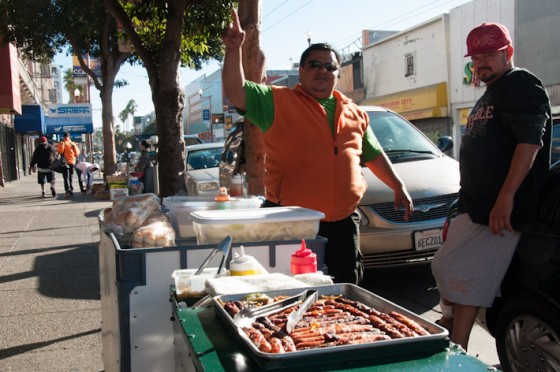 Zara, a Portuguese contributor to a travel blog called Backpack Me, LOVES the Mission. Here's what she has to say…
Comparing it to other SF neighborhoods:
I leave behind elegantly manicured neighborhoods, to enter what I'd already dare to call Latin America.
Comparing it to Noe Valley in particular:
Baby strollers rolling into bagel shops was the world up the hill. Down here, I see brunette ladies with overloaded bags full of groceries. Cafes have been replaced by fresh fruit and vegetable stores, that display heaps of aromatic cilantro, tomatoes, varieties of potatoes and, of course, corn products in all shapes and sizes.
She tries a little experiment:
Walking around Mission, I decide to do a little experiment and see if I'd go by the entire afternoon without speaking a word of English. Absolutely no problem!
She enjoys a little flirting:
I buy a bag of tomatoes and receive a "You're welcome, Preciosa" as an answer. I like that! I got used to a little flirting while shopping at the market in Santiago de Chile… and now a simple self check-out at the bigger supermarkets doesn't cut it for me anymore.
She does allow that there've been some changes in the neighborhood in recent years, but it's no big deal:
If it wasn't for the hipster influx that The Mission has been receiving in recent years (and who can blame them, really… this place rocks!) I could almost forget I am in the USA.
On Mission residents:
Residents exchange words in Spanglish. They tend to be loud and laugh a lot. Like just back home.
On Starbucks:
You don't see Starbucks around here. But you do see a church in almost every street.
Phewf! Maybe the Mission's still got it after all! Read on for lots more pics and commentary.