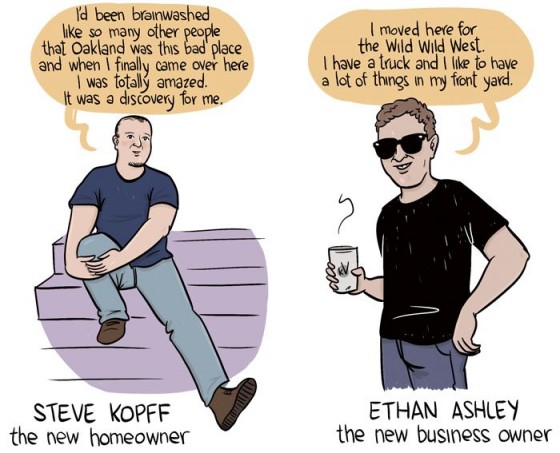 Holy cow, Susie Cagle's new piece on the gentrification situation in Oakland is a barnburner. Here's how it starts:
Gentrification: We think we know it when we see it. Pour-over organic coffee, double-wide designer strollers, gluten-free options. Millennials and their unrelenting desire to live and work in cities that pushes out longtime residents. A tide rising, cresting and washing over. An act of nature.
These demographic and economic shifts in cities aren't the result of organic social and cultural trends; the changes are wrought by decades of investment and public policy choices, and inextricably bound to histories of racism, exclusionary land use policies and exploitative banking processes that left certain communities vulnerable to a steamroller of new investment.
"If you don't know what the problem is you definitely can't stop being a part of it, and I think a lot of people don't know what the problem is," says DeeDee Serendipity, a native of Oakland who now owns a salon in the city.
Read on for an exhaustive examination of how exactly gentrification works and what exactly is happening in Oakland.