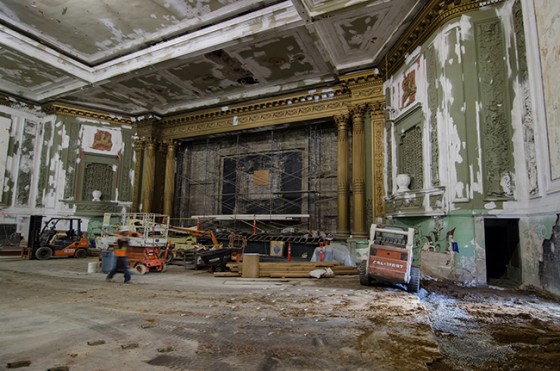 Today on the Alamo Drafthouse blog, former Roxie boss and new New Mission honcho Mike Keegan gives us the skinny:
What are we going to show at the New Mission? The short answer is, anything we think should be seen with an audience.  The slightly longer answer is: Hollywood blockbusters, independent pictures, classics, not-so-classics, foreign films, insane rediscoveries, restorations, rarities, documentaries, cult stuff, music stuff, interactive parties, and lots more.  From family-friendly sing-a-longs to gigantic space operas to brain-damaged total trash, it's all under one gigantic roof at the New Mission.
Speaking of the New Mission, want to see how it's coming along?
This is our big main room on the ground floor.  That scaffolding on the stage is where speakers are going to go, behind the screen.  Do you see those little holes in the ground?  Back in the day, each seat at the New Mission had individual heat blowers in the floor for each guest.  We're not replicating that particular quirk, but we figure being able to eat and drink from your seat is a fair trade.  EXCLUSIVE UPDATE: We ARE replicating that personal atmospheric maintenance system!
Epic! Great work, Mike!
Read on for more pics and info.