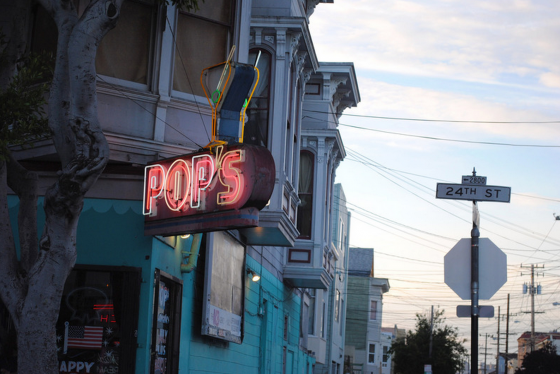 Atlas Obscura talks to Randall Ann Homan and Al Barna, authors of the new book San Francisco Neon: Survivors and Lost Icons:
Which neighborhood in San Francisco has the highest concentration of remaining signs?
Grant Ave in Chinatown has the most legacy neon signs per block. This is probably because Chinatown has never experienced a major "redevelopment"phase. Sadly, only two or three of these signs are still illuminated.
Is their loss something that is universally mourned in SF?
People mourn the loss of legacy neon signs, and also the small businesses they represent, which are being squeezed out by gentrification. A neon sign often marks traditional gathering places in neighborhoods, where generations of city residents congregate to watch movies, drink martinis, buy raviolis, eat fish, and even park cars.
The Q&A contains some great shots of iconic neon here in the Mission. Read on.