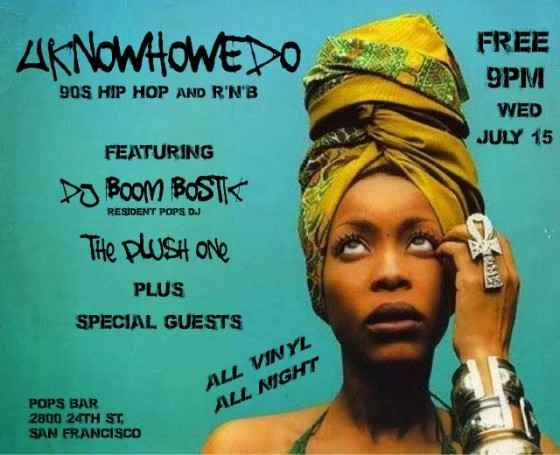 Dust off your dance shoes for an old school, mid week dance jam with UKNOWHOWEDO on Wednesday Night at Pops Bar! 90s Hip Hop and R&B, ALL VINYL ALL NIGHT, with DJs playing only the underground jams and mainstream goodness they love.
DJ Boom Bostic (Resident POPS DJ)
and special guest DJ Hay Hay – Bay Area Vet. Amoeba music Alumni-
She's bringin' 90s heat!
9PM-Close
Free
21 UP
Check out the rest of this week's music line up at Pops Bar:
7/13/15 MONDAY
MOM at POPS:
Motown on Mondays
It's only Monday if you treat it like one.
M.O.M
9PM START, 1:30AM end
Hey!
Check out my
M.O.M.
Mondays at Pops
DJ BLUZ, ALARM & GUESTS
PLAYS ORIGINALS, EXCLUSIVE REMIXES
AND CLOSE RELATIVES OF YOUR FAVORITE
MOTOWN SONGS…
7/14/15 TUESDAY
Happy Hour Entertainment with Julio Hernandez 6-9PM
Tropicana Tuesdays
"Quality Latin BASS"
Every Tuesday at POPS BAR
Music: FREE
Time: 9pm – 2am
Tropicana Tuesday with DJ Baysik, playing a mixture of islander & latin grooves all night, from Celia Cruz to Vybz Kartel. Experience the only Tuesday night Latin themed party in the mission.
7/15/15 WEDNESDAY
UKNOWHOWEDO all vinyl 90s Hip Hop and R&B
ALL VINYL ALL NIGHT 90s hip hop and R&B jams and other joints of the same vibe . All DJs playing the jams that they love. No fillers. Underground jams and peppered mainstream goodness only. Grown folk jams!
Featuring DJ Boom Bostic, The Plush One & Special Guests
No Cover
21 UP
7/16/15 THURSDAY
BFF.FM Night
9PM-1:30AM
Rotating DJs from local BFF.fm radio! This week: ZEROONE
Come support local community radio.
No Cover
7/17/15 FRIDAY
Happy Hour Entertainment 6-9PM with Steve Brennan. Steve is a guitar player who plays and sings an eclectic mix of songs from the 60's to the present covering blues, americana, folk, alternative and indie rock. Steve prefers the B-sides, but is happy to throw in a pop tune or two to keep the party rolling.
Cult of Choice
9PM-2AM
Shortshortzz and Lisa P present CULT OF CHOICE. Sway, groove, nod, float, fly, small-dance, big-dance, talk, or stare to rarities and well-knowns—from Chic and Chaka Khan to Todd Terje and Tensnake. Nine pm until no one is watching.
No Cover
21 UP
7/18/15 SATURDAY
Music for Our Mission Happy Hour 6-9pm with Local Mission Musician Suzanne Cortez and her All star line up group "Adelante". We will be performing a "Santana Tribute"and a Variety of "Old Skool" Rock, R&B Chicano Rock, and Latin Rock, Soul & Oldies right in the "Heart of the Mission District" Hope to see you there it's gonna be a lot of fun!!!!
RICHARD ARGUELLO
Playing Old School R&B, Soul & Dance Jams from the 60′s, 70′s, 80′s & 90′s
9pm-2am
No Cover
21 UP
7/19/15 SUNDAY
DOUBLE FEATURE SUNDAYS
Week 2: San Francisco Theme Night. Season 1 Binge Watchathon of "The Streets of San Francisco"
9PM
No Cover
21 UP
POPS BAR
2800 24th Street @ York
San Francisco, CA 94110
www.popssf.com