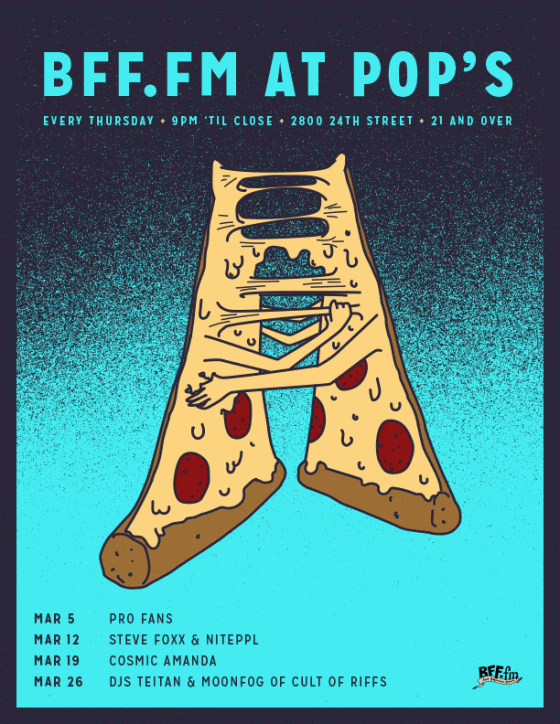 [Editor's note: Thanks again to Pop's for sponsoring us, and for keeping the party alive in the Mission every single night of the week.]
This week's music line up at Pop's Bar:
3/2/15 MONDAY
6-9PM Blues Happy Hour with U9LIFT & TIMO
MOM at POPS
Motown on Mondays
It's only Monday if you treat it like one.
M.O.M
9PM START, 1:30AM end
The most talked about night in town.
Hey!
Check out my
M.O.M.
Mondays at Pops
DJ GORDO CABEZA, TIMOTEO GIGANTE, THE CAPTAIN AND WEEKLY GUESTS
PLAY ORIGINALS, EXCLUSIVE REMIXES
AND CLOSE RELATIVES OF YOUR FAVORITE
MOTOWN SONGS…
3/3/15 TUESDAY
TROPICANA TUESDAYS
"Quality Latin BASS"
Every Tuesday at POPS BAR
Music: FREE (Local BayArea DJ`s)
Salsa Lesson: FREE (Instructor La Muerte)
Time: 9pm – 2am
Tropicana is BACK in town! Every TUESDAY night for the WINTER season. Bringing "Quality Latin BASS", by playing some of the latest – up to date latino music genres.. of course respecting the classics…
With Tropicana Nights, our purpose is to create space for cultural diversity and environmental awareness. Community and music can do a lot of great positive impact in society.
Music by local BayArea DJ`s, such as Stepwise, El Kool Kyle, Mr. Lucky, Mr. E, J Boogie and more…
Salsa I LatinHouse I Latin HipHop I Moombahton I DubCumbia I Merengue I Bachata I Dancehall I LatinReggae I and more…
3/4/15 WEDNESDAY
Eighty-Five Song Happy Hour 6-9PM
Nick Pal spins short songs because life is short. Hard rock, power pop, punk and pop vinyl.
Wu Tang Wednesdays
9PM-1:30AM
Every Wednesday Night at POPS BAR
Razor Sharp Sounds sliced by DJ Kevvy Kev
Classic 90s Hip Hop
No Cover
3/5/15 THURSDAY
6-9PM Happy Hour Entertainment
Alabaster's Record Collection. ALL VINYL ALL THE TIME. Electoc, Rock & Roll, Punk, Indie, 80s & Whatever.
7-10PM STEAL THE GLASS: While supplies last, order a Lagunitas and take home the glass!
BFF.FM Night
Rotating DJs from BFF.fm radio! This week: Pro Fans – Katie & Marisa spin goddamn every danceable jam!
9PM-1:30am
No Cover!
3/6/15 FRIDAY
Happy Hour Entertainment 6-9PM
Uncle Rifkin is a 4 piece, mostly acoustic, homegrown San Francisco band. Their style ranges from stripped down country to blues, rock & folk, all with a funky edge and storytelling vibe.
CULT OF CHOICE
Shortshortzz and Lisa P present CULT OF CHOICE. Sway, groove, nod, float, fly, small-dance, big-dance, talk, or stare to rarities and well-knowns—from Chic and Chaka Khan to Todd Terje and Tensnake. Nine pm until no one is watching.
9PM-1:30AM
No Cover
3/7/15 SATURDAY
Happy Hour Entertainment 6-9PM with Alabaster and Tim. Down home alt Rock duo.
OUR JAMS
All about feeling like you're somewhere warm and fun. the sounds can be an island with sugary umbrella drinks or a black + white checked-tile dance floor in a long lost detroit. trinidadian calypso from the 30′s 40′s and 50′s, brazilian jungle jams, 60′s motown/teenage funky stuff, 70′s boogie and everything in between.
9pm-1:30am / No Cover
2/8/15 SUNDAY
Bushman's Bash Open Jam
Join us for an open Jam at Pop's!
6-10PM
No Cover
POPS BAR
2800 24th Street @ York
San Francisco, CA 94110
www.popssf.com