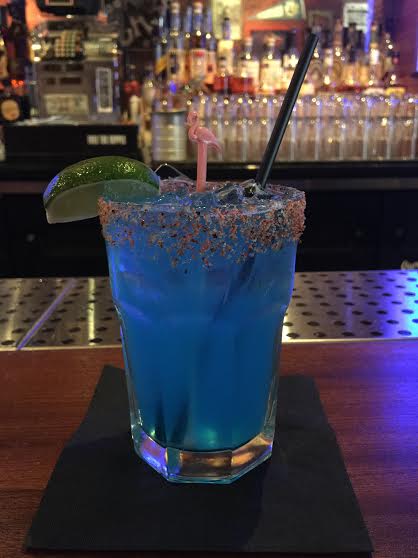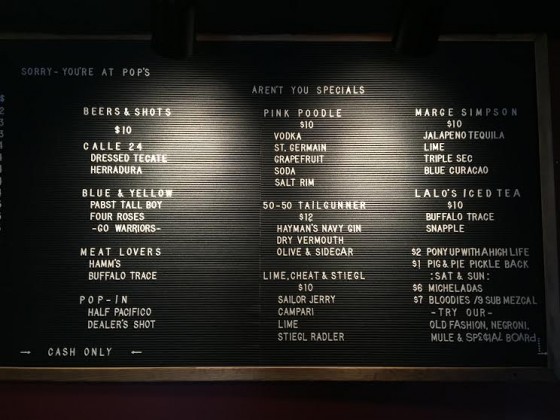 What is music for the Mission without also parring it up with equally awesome booze for the mission? At Pops, we think your extra special personality deserves some aren't you special cocktails! Blue, beautiful, spicy, lovable…that's the Marge Simpson in a nutshell. With jalapeno infused tequila, lime, triple sec, blue curacao with a chili salt rim, it tastes as good as it looks. Marge is definitely a Pops favorite, so make sure to stop in and try it for yourself.
Check out this week's full music line up at Pop's Bar:
6/29/15 MONDAY
MOM at POPS
Motown on Mondays
It's only Monday if you treat it like one.
M.O.M
9PM START, 1:30AM end
Hey!
Check out my
M.O.M.
Mondays at Pops
DJ BLUZ AND ALARM
PLAY ORIGINALS, EXCLUSIVE REMIXES
AND CLOSE RELATIVES OF YOUR FAVORITE
MOTOWN SONGS…
6/30/15 TUESDAY
TROPICANA TUESDAYS
"Quality Latin BASS"
Every Tuesday at POPS BAR
Time: 9pm – 2am
Tropicana Tuesday with DJ Baysik, playing a mixture of islander & latin grooves all night, from Celia Cruz to Vybz Kartel. Experience the only Tuesday night Latin themed party in the mission.
Salsa I LatinHouse I Latin HipHop I Moombahton I DubCumbia I Merengue I Bachata I Dancehall I LatinReggae I and more…
7/1/15 WEDNESDAY
Happy Hour Entertainment 6-9PM
85 Song Happy Hour
Nick Pal spins short songs because life is short. Hard rock, power pop, punk and pop vinyl.
Whatever Wednesdays
9PM-1:30AM
Whatever Wednesday is YOUR PARTY, literally. You got DJ skills? Have you been itching to show ALL your friends? Its your turn to take over the night and mix it up. Send us your request, your best mix and we'll see what we can do to get you your turn.
Email: tom@popssf.com
No Cover
21 UP
7/2/15 THURSDAY
Alabaster's Record Collection
6-9PM Every First Thursday at POPS BAR
All VINYL ALL THE TIME
Eclectic, Rock & Roll, Punk, Indie, 80s & Whatever
BFF.FM Night
Rotating DJs from BFF.fm radio! This week: Pro Fans – Katie & Marisa spin goddamn every danceable jam! Spinning all the hits on vinyl. By stopping by for a sip, you're supporting BFF.fm community radio so come down and get drankin drankin.
9PM-1:30am
No Cover!
7/3/15 FRIDAY
Happy Hour Entertainment 6-9pm with Uncle Rifkin:
Uncle Rifkin is a 4 piece, mostly-acoustic, homegrown San Francisco band mixing up styles into a beaker that just might make you dance. Country to Blues. Rock & Folk all with a funky edge and storytelling vibe for your listening pleasure.
Cosmic Amanda
Kick off 4th of July weekend with Cosmic Amanda!
Pledge allegiance to classic disco, funk, house and afro beat jams. Our forefathers invented this great nation just so you can do a bunch of woo woo shots and dance like nobody's watching.
21+ NO COVER JUST JAMS
9PM-1:30AM
7/4/15 SATURDAY
CHAMPAGNE CAMPAIGN
with DJs Sake One
A true veteran of the Bay Area hip hop and music scene, DJ Sake One is a born and raised renaissance man, known to doing anything from community projects to opening up for big acts such as Mos Def or Kanye West. Whether it's soulful lounge tracks or bass-filled remixes, his talent and musical palate does not discriminate.
9:00pm-1:30am
No Cover
21 UP
7/5/15 SUNDAY
Bar Opens at 10AM
5-10PM Spill The Wine
CUMBIA * CHICANO ROCK * LATIN SOUL * BOOGALOO
DJs Vinnie Esparza, Guillermo & Slopoke
No Cover
21 UP
POPS BAR
2800 24th Street @ York
San Francisco, CA 94110
www.popssf.com