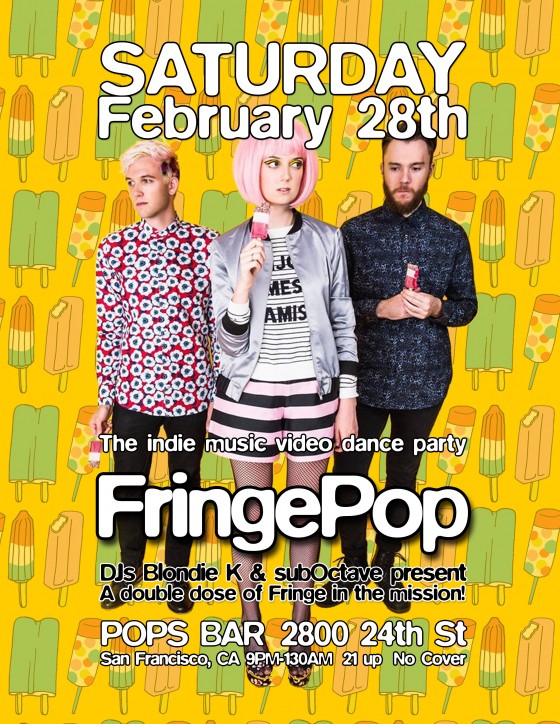 Have you hopped on POPS yet? A neighborhood favorite keeping you in good spirits for a long long time, POPS recently added a full line up of the best local live music and bay area DJ parties. Happy hour entertainment from 6-9pm delivers chill vibes while nightlife entertainment every day at 9pm gets you on your feet all night long. Since it's always 5pm somewhere, you can even grab a "Bacon Bloody Mary" Saturday & Sunday as early as 10am. See what's in store this week at POPS:
2/23/15 MONDAY
6-9PM Blues Happy Hour with U9LIFT & TIMO
MOM at POPS:
Motown on Mondays
It's only Monday if you treat it like one.
M.O.M
9PM START, 1:30AM end
The most talked about night in town.
Hey!
Check out my
M.O.M.
Mondays at Pops
DJ GORDO CABEZA, TIMOTEO GIGANTE, THE CAPTAIN AND WEEKLY GUESTS
PLAY ORIGINALS, EXCLUSIVE REMIXES
AND CLOSE RELATIVES OF YOUR FAVORITE
MOTOWN SONGS…
2/24/15 TUESDAY
Tropicana Tuesdays
"Quality Latin BASS"
Every Tuesday at POPS BAR
Music: FREE (Local BayArea DJ`s)
Salsa Lesson: FREE (Instructor La Muerte)
Time: 9pm – 2am
Tropicana is BACK in town! Every TUESDAY night for the WINTER season. Bringing "Quality Latin BASS", by playing some of the latest – up to date latino music genres.. of course respecting the classics…
With Tropicana Nights, our purpose is to create space for cultural diversity and environmental awareness. Community and music can do a lot of great positive impact in society.
Music by local BayArea DJ`s, such as Stepwise, El Kool Kyle, Mr. Lucky, Mr. E, J Boogie and more…
Salsa I LatinHouse I Latin HipHop I Moombahton I DubCumbia I Merengue I Bachata I Dancehall I LatinReggae I and more…
2/25/15 WEDNESDAY
Happy Hour Tunes with DJ Bezera 6-9PM
Wu Tang Wednesdays
9PM-1:30AM
Every Wednesday Night at POPS BAR
Razor Sharp Sounds sliced by DJ Kevvy Kev
Classic 90s Hip Hop
No Cover
2/26/15 THURSDAY
BFF.FM Night
9PM-1:30AM
Rotating DJs from local BFF.fm radio! This week: Cosmic Amanda – new wave, disco and other danceable delights.
Come support local community radio.
No Cover!
2/27/15 FRIDAY
Happy Hour Tunes with Trent & Tyler 6-9PM
SWEET
Hip-Hop and R&B, Electronic & Indie Jams and Classic Vibes
DJs: King Most and special guest Jon Reyes
9PM-1:30AM
No Cover
2/28/15 SATURDAY
Happy Hour Tunes with Patch & Rita 6-9PM
FringePop
Want more Fringe in your life? Then this is the event for you! DJs Blondie K & subOctave spin all your favorite indie music videos plus the latest remixes causing a buzz on the dance floor. Fringe voted "BEST DANCE PARTY" in SFWeekly. Come see what all the buzz is about. It's better on the edge.
www.fringesf.com
9pm-1:30am
No Cover
3/1/15 SUNDAY
Spill the Wine
CUMBIA * CHICANO ROCK * LATIN SOUL * BOOGALOO
5-10PM
No Cover
POPS BAR
2800 24th Street @ York
San Francisco, CA 94110
www.popssf.com