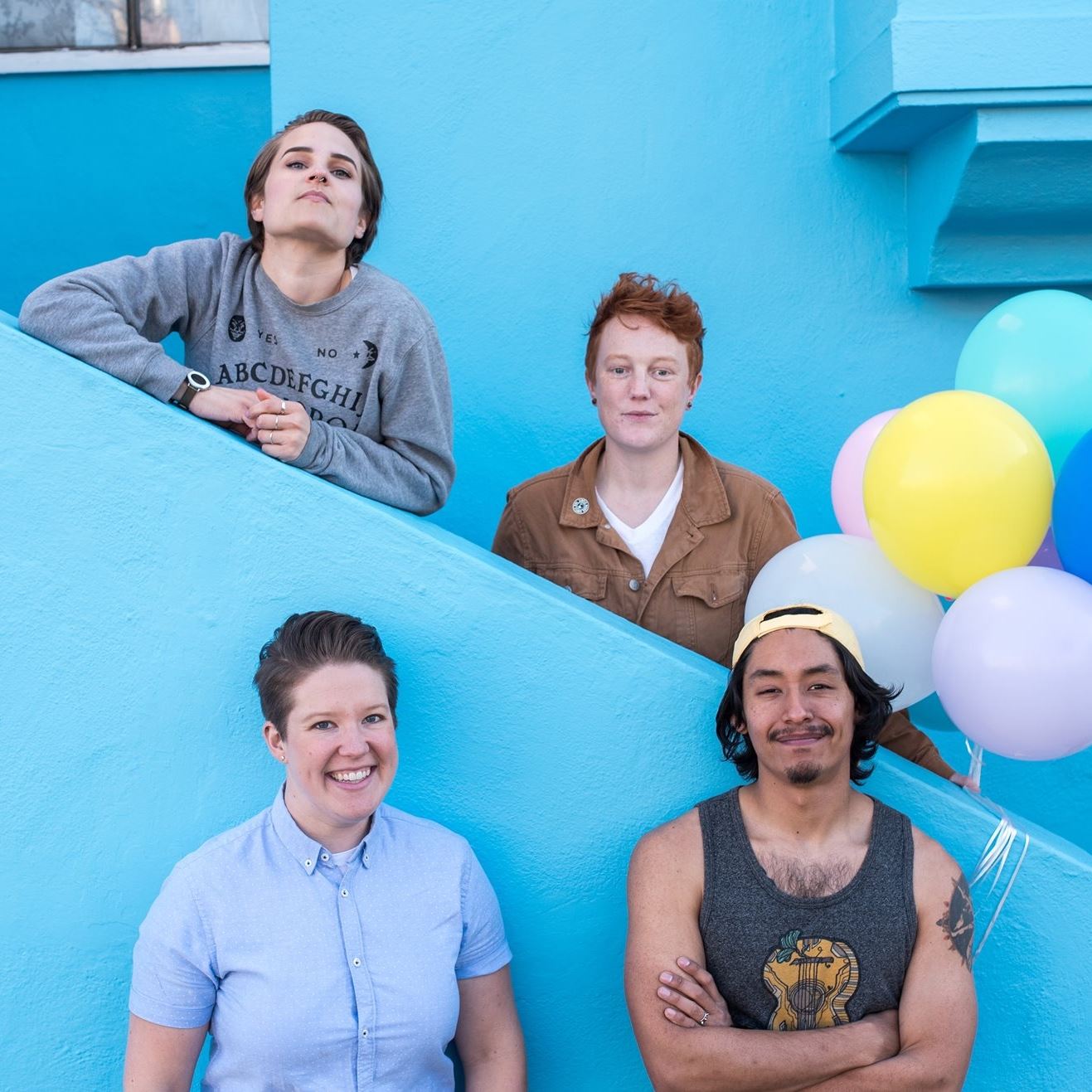 We are so excited that LOUD & LOCAL is bringing The Total Bettys Inflatable water slide for sale Canada to Pops Bar this Week!  On the first Thursday of every month LOUD & Local presents a night to benefit BFF.fm, featuring awesome live bands and guest DJs at Pops Bar.  This Thursday, San Francisco's Pop Punk band The Total Bettys join DJ Ash & DJ Bailey for a night of BFF trifecta fun.
The Total Bettys recently talked to Vents Magazine on the role San Francisco plays in their music: "There are so many ways that San Francisco influences our music. First of all the musicians in the scene here are extremely influential to our songwriting and our growth: bands like Jay Som, Hazel English, Try the Pie, SOAR… having so many talented people working in the Bay Area influences our music a lot.  But also, we tend to make a lot of San Francisco references. Like, about how it's freezing cold at the beach, but extremely hot in October. We reference shopping at this classic record store called Amoeba on Haight Street, things like that. It's a special city that I feel really privileged to call home."
21+ / 9pm - close / FREE (donations for BFF.fm collected at the door)
Come out to Pops and support local music!
Check out this week's full entertainment line up at Pops Bar:
12/5/17 TUESDAY
Trivia Tuesdays
Pops Quiz
8:30-10:30PM
Join us every Tuesday of the month and test your wits at Pops trivia night "POP's Quiz" where your brain may get stump on categories such as Pop's culture, Sports, Movies, Music and more, with little snippets of audio and visual effects too! So come on in for some good ole fashion competition and a night of drinking with the crew!
MUSIC THERAPY
Electro-Cumbia Breaks, Hip Hop, Nu Latin Beats
9PM-1:30am
No Cover
21 UP
12/6/17 WEDNESDAY
DJ Little D
6-9pm all vinyl 45s from 60s, 70s and 80s. Soul, r&b, and classic rock and surf.
Sterling Soul Night 
Soul/R&B/Doo Wop/Girl Groups ALL 45s
Every first Wednesday of the month
with Matty Holt and a different special guest DJ each month!
9pm-2am
No Cover
21 UP
12/7/17 THURSDAY
Alabasters Record Collection
Happy Hour Entertainment 6-9pm with Alabasters Record Collection. All Vinyl All The Time. Eclectic, Rock & Roll, Punk, Indie, 80s & Whatever.
Loud and Local 
LOUD & Local presents an all new monthly bar night to benefit BFF.fm, featuring awesome live bands and guest DJs. This month featuring:
The Total Bettys- a pop punk band from San Francisco. Maggie, Reese, Chris and Chloé started writing together in 2015, and they instantly became best buds.
Ash – Ash is a local DJ, Editor at The Music Ninja and BFF.fm radio host with a passion for uncovering underground artists and sharing their stories. His sets are designed for dance and discovery.
Bailey- Bailey is a resident DJ at Good4U, a weekly party at Madrone Art Bar breathing life into your Tuesdays with the warmer side of house, techno & disco. She also hosts Spin the Night on BFF.fm
21+ / 9pm - close / FREE (donations for BFF.fm collected at the door)
12/8/17 FRIDAY  
Music For Ghosts
6-9pm
Lester T. Raww spinning music from the 1920's, 30's & 40's.
24 & YORK
Rap Music + Cheap PBR + No Cover + Good Company
⚡ Music by Rotating Res DJ Roost Uno + Special Guest DJs: CRE8SHUN + PONY P ⚡️
Hosted by Rinchen & Tyrice
9PM-1:30AM
No Cover
12/9/17 SATURDAY
Brunch Mob
10am-3pm
with DJs Milton Badley and Snelly Davis Jr. Soothing classics to accompany your Bacon Bloody Mary.
Lonesome Lester
6-9PM
Lonesome Lester plays three kinds of music: his music, old music, and his old music. Armed with a ukulele, occasionally joined by an acquaintance or two, Lester plays Tin Pan Alley favorites as well as his own songs…which sound like Tin Pan Alley favorites.
SADDERDAY EMO NIGHT: Yule Shoot Your Eye Out Holiday Edition
emo/pop punk/scremo/electro/hardcore/punk
with DJ Kevin Kannibal and Ashley Suicide
It's not *quite* Christmas Eve and we definitely haven't even wrapped two freaking presents, but the winter holidays are absolutely here and we are ready to party. So come bring your holiday cheer or humbug spirit, and enjoy all your fave emo/pop-punk/post-hardcore tunes with an extra special smattering of all the Christmas songs you hate to love and love to hate.
9:00pm-1:30am
No Cover
21 UP
12/10/17 SUNDAY
BOPS AT POPS
Need something funky for your weekend wind down?  Every 2nd Sunday, Pablito and friends bring you "BOPS at Pops".  Old and new hip-hip, fresh-groove bangers, classic soul hits and everything in between.  Stop by for tasty drinks, share your smiles in the complimentary photo booth and shake some damn tail feathers!  Whatever your flavor we're sure to keep your head boppin'!
10pm-close
POPS BAR
2800 24th Street @ York
San Francisco, CA 94110