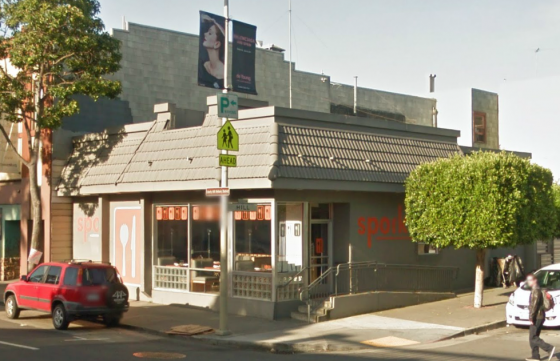 Got an IM from my buddy Josh:
Josh: spork is closing
an institution
i hope they demolish that ugly building
Sent at 4:16 PM on Tuesday
me: they should turn it into a kfc
where's this news?
Josh: EVERYWHERE
http://www.tablehopper.com/chatterbox/spork-in-the-mission-closing-this-friday-after-a-five-year-run/
how about a drive through kfc in the shape of a chicken leg
i remember it
used to stink up valencia
air was greasy
Sent at 4:20 PM on Tuesday
me: yeah, hopefully they just demolish that ugly building
also i quote you on this topic?
can i*
Josh: what is the quote
yes why not
you pick the quote
how about a drive through KFC shaped like the Colonel
right through the legs
That Tablehopper link delivers some bittersweet news:
If you recall, the building is slated to be demolished and turned into condos in the near future, so it doesn't look likely that anyone will move into the space.
Condos! Yay! Read on for a statement from the Spork owners.