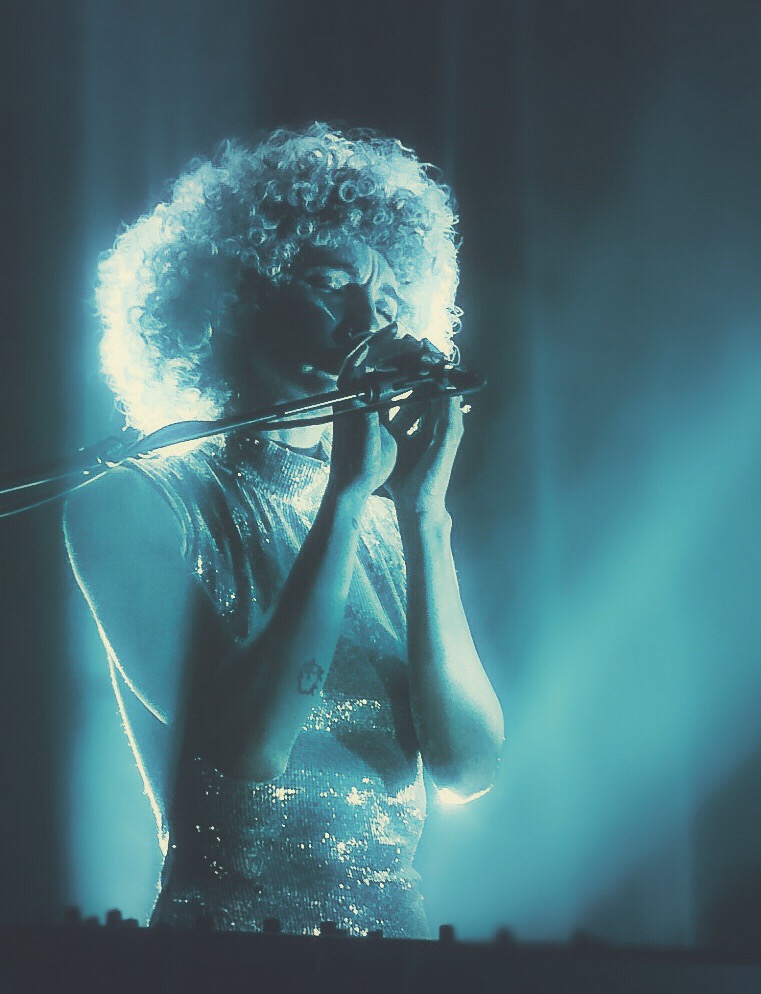 By Valerie Luu / Photos by Ruchita Lalmalani
I knew nothing about Tennis before going to their show on a Tuesday night at The Chapel.
All I had was this memory: listening to "Young and Old," their sophomore album released in 2012, which was on heavy rotation at Reveille Coffee in North Beach, where I would go for a pot of tea and to chat with my cafe crushes.
Their song "It All Feels the Same" reminds me of continuing that soundtrack as I put on headphones after leaving the cafe. I'd skate down Montgomery toboggan gonflable Street while the fog lifted and the sun filtered through skyscrapers and commuters emerged from BART with freshly ironed clothes and washed hair.
When I hear that song, I think about what a luxury it was to have all that time to banter with baristas, to push up Howard Street to the Mission and to witness the morning sunrise. Where have those days gone?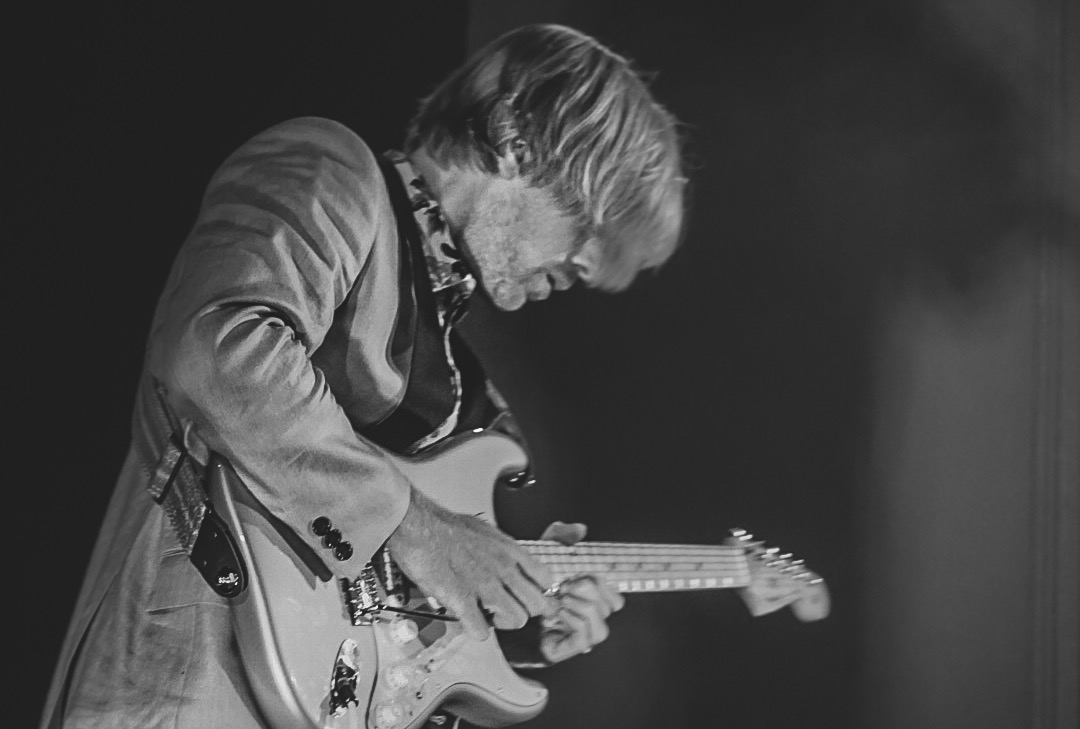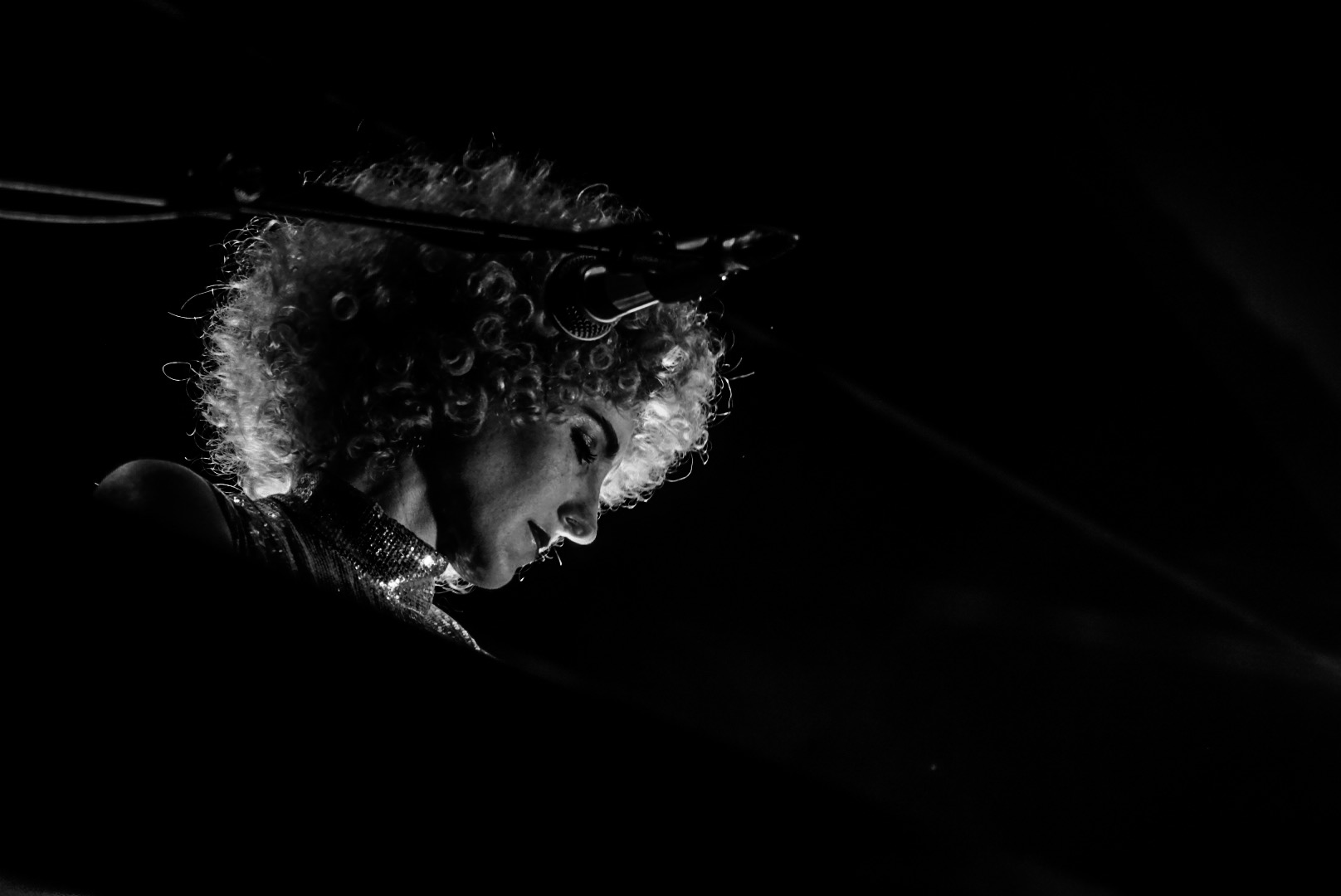 I was curious what memories Tennis holds for other people, so I went into the show with this question: "Is there a Tennis song or album that reminds you of certain time in your life?"
Liz O' Neal, 30, was the first person I spoke to. She was holding down a spot in front of the stage with her friend Hanna Steinberg, 29.
"How would you describe their music?" I asked, realizing that I hadn't thought about how to classify their sound up until that point. "It's dreamy, sexy rock," she said. "It makes you want to go to the beach."
Beaches and boats are a big part of the band's mythology. Alaina Moore and Patrick Riley, the husband-and-wife duo of Tennis, met in a philosophy class at the University of Colorado, Denver. After graduation, they took sail for half a year along the Atlantic Coast. "Cape Dory," their debut album, was written on their trip and is a diary of the places they visited — Maryland, South Carolina and Florida.
For O' Neal, "Marathon" brings back memories of her sailing trip in Greece. "We hired this old sea captain, who looked like a sexy dad from 'My Big Fat Greek Wedding.' He took us to all these tiny Greek islands for a week," she said. "It reminds me of being happy and carefree."
I had recently come back from island hopping in the Cyclades, the group of Greek islands known for their whitewashed and blue domed buildings, so I was able to imagine how "Cape Dory" could be a perfect soundtrack to hanging out on a boat, grilling fish on the secluded beaches and feeling your cares dissolve away in the saltwater and Mediterranean sun.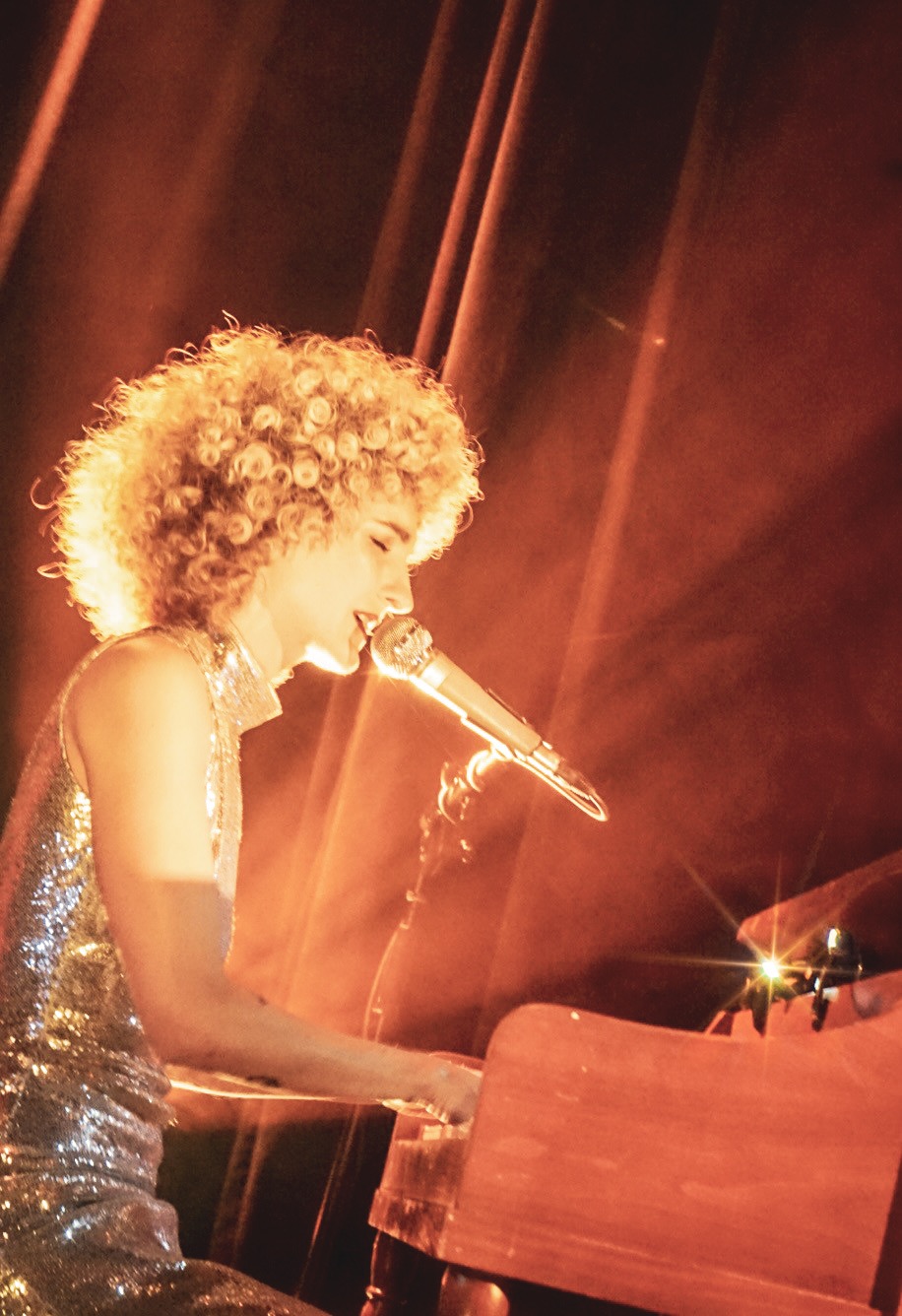 For others, the songs are less about actual memories and more about a image.
For Serratia Krank, 22, "Baby Don't Believe," from Tennis' most recent album, is a love song from a "wingman's perspective."
"When I hear the song, I see a guy with flowers at a woman's window," she said. "Or a guy in the back of a crowd watching his woman playing on stage. The crowd is going wild for her, but he doesn't mind. He's there for her."
To Krank, an inspiring filmmaker, the song is about someone rooting on the sidelines — even if it's yourself. Sometimes she'll listen to the song while she looks at herself in the mirror. "I'm your biggest fan," she says to herself, becoming the person in the crowd.
Her friend Jamie Banks, 24, said "10 Minutes 10 Years" resonates with him. "I think about their relationship," he said of the married musicians. "If I ever wanted a relationship I would want to be like theirs."
With that, the show started. Moore came out in a silver sequined dress and sat at a piano across from Riley, who was on guitar. Without speaking, they opened with "10 Minutes 10 Years," blue lights illuminating her blonde afro.
Their current acoustic tour was inspired by an experience they had opening for Father John Misty. At one of his shows, he spontaneously went onstage without his band and played an unplugged set. "I was shocked that it was my favorite [part of the tour]," Moore said.
That inspired Tennis to strip embark on their "Solo in Stereo" tour with just the two of them — which required the couple to do things outside their comfort zones — for Moore it was playing the guitar and Riley, the drums.
The aim was a more raw, stripped down version that sounds closer to their demos. "It's the most minimal, just like how we wrote it," she said. "It's four chords and the truth."
In trying to be minimalist, Moore realized her true nature. "Five minutes later, I found myself with five pianos and 20 drum machines," she laughed. "Turns out I'm a maximalist — I tried to bring it down to zero and ended up with an afro and a 100 percent sequined dress."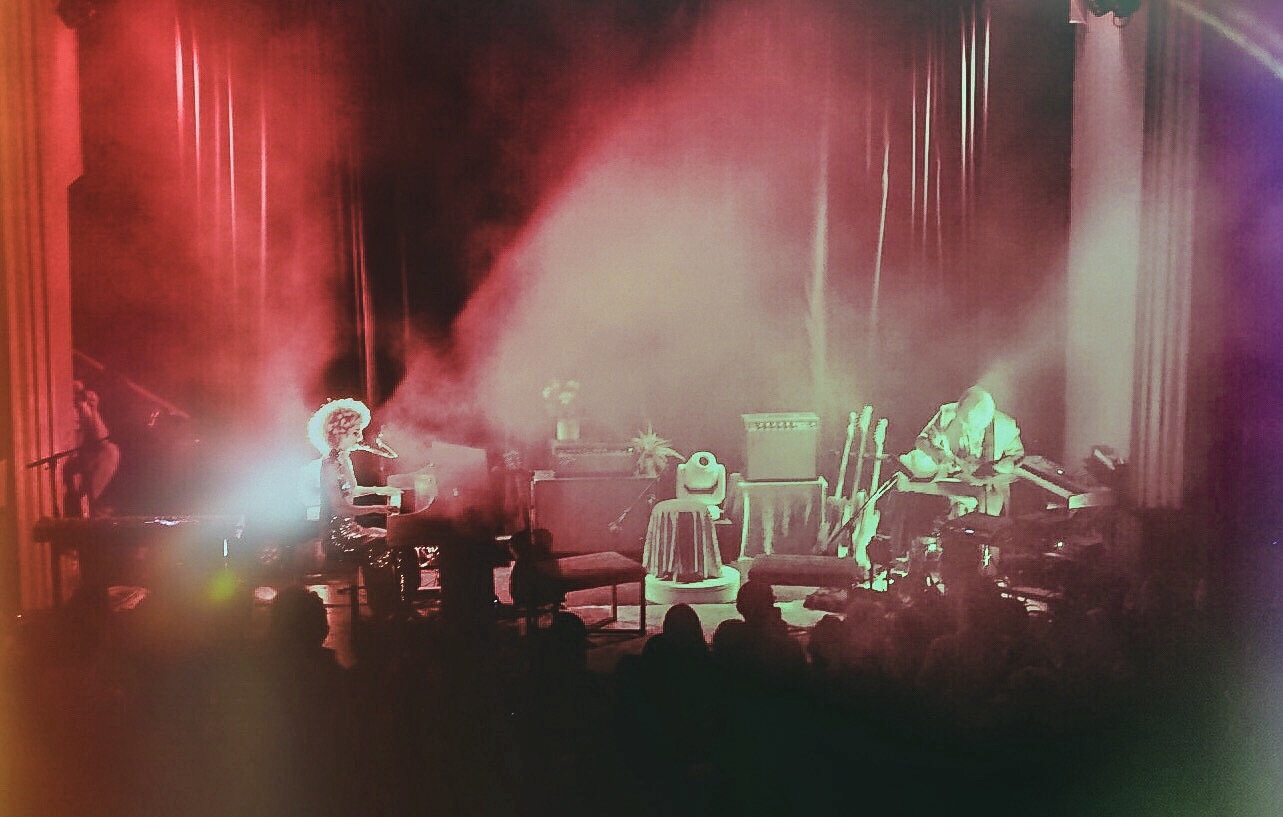 In addition to the acoustic set, the stage design also made me feel like we were in their home recording studio. On stage at The Chapel was an upholstered green bench, vanilla shag rug and a side table with a velvet rose tablecloth which sat unused until "Island Music," the last song on "Yours Conditionally" and the closing song of the night. Moore took a seat on the table and pressed a button, which turned it into a rotating pedestal.
Before the show started, I overheard Jamie Banks making a bet with Serratia Krank: "For every song you don't dance to, you owe me a dollar," he said. After Tennis finished "Island Music" and the house lights turned on, I turned to the two friends and asked if they had danced to every song.
"I did," said Krank. As for Banks, he was coming out of a haze. "I didn't dance to the last song," he said. "I was so stunned by her beauty."
As was I. "Island Music" now holds that image of Moore spinning onstage looking and sounding ethereal as she sang the lyrics "through the living and breathing and dreaming / like a daze" with tropical guitar sounds looping in the background. It was a magical ending, something out of a '70s daydream.
–
Thanks to The Chapel, Allan Hough, and Tennis for the lovely, memorable show.
–
Valerie Luu chases grandmas for Chinatown Pretty and hustles at Rice Paper Scissors. She's probably listened to "10 Minutes 10 Years" a hundred times.
Ruchita Lalmalani is a portrait and concert photographer. She's available for prints, press and shoots at electric.spaceinvader@gmail.com.
[Editor's note: The Sadies are playing at the Chapel on Sunday afternoon and they are the BEST! Thanks Val!!!]