Pressed for time, I only made it to the two Outer Mission stops on the 24th and Mission Art Walk. Neither was as fun as Cardburg.
First, Soap Gallery: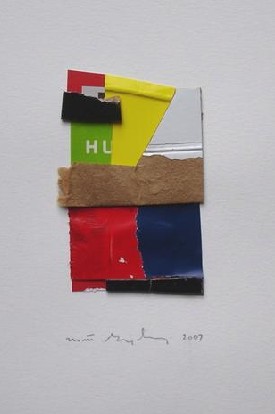 This was opening night for Pull Here To Get Everything You Want, an exhibition of new collages by Green Party vice presidential candidate Matt Gonzalez. The modest little arrangements of scraps appeal to the OCD in all of us, and as far as repurposing found junk into art, a lot of these were a lot better than a lot of the junk at Unmonumental, the ballyhooed found-junk-themed inaugural exhibition at New York's new New Museum location (which, incidentally, closes in a couple days).
The central element of the opening was Gonzalez. Photographers swarmed, taking lots and lots of low-angle shots of him mingling with attendees. My parents noted that he's going gray.
Soap Gallery provided goldfish crackers, pretzels, peanuts, M&Ms, wine, three kinds of imported beer, and live music.
Next, Queen's Nails Annex:
Queen's Nails Annex has a cool name, this cool picture of chairs, a cool logo on its website, and it's like right next to Argus Lounge, which is cool.
Previously on Mission Mission: 24th and Mission Art Walk Snakes around All the Best Parts of the Mission.