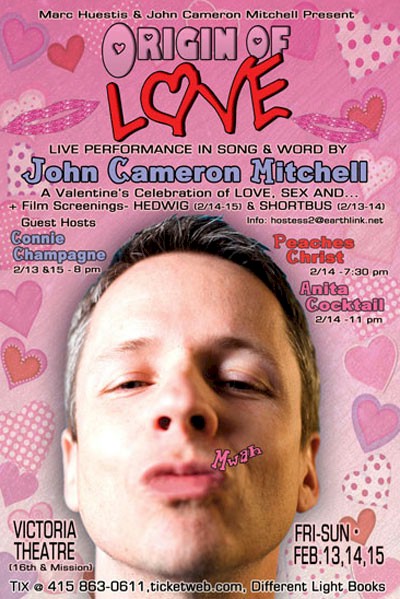 If you're like me, Hedwig is your favorite movie musical of all time and thus John Cameron Mitchell is a hero of yours and thus you're ecstatic that he's decided to spend Valentine's weekend at the Victoria Theatre in the Mission performing a one-of-a-kind stage show called Origin of Love that includes readings on romance, screenings of his films with live commentary, and SINGING OF SONGS FROM HEDWIG.
Showtimes and details are as follows:
Fri., Feb 13, 8 pm (SHORTBUS) Hosted by Connie Champagne
Sat., Feb 14, 7:30 pm (HEDWIG)  Hosted by Peaches Christ
Sat., Feb 14, 11 pm (SHORTBUS w/ live  director's commentary ) Hosted by Anita Cocktail
Sun., Feb 15, 8 pm (HEDWIG w/ live director's commentary) Hosted by Connie Champagne
Link. Bonus: Jonathan Richman's version of "Origin of Love" is pretty good too. Hear it here.