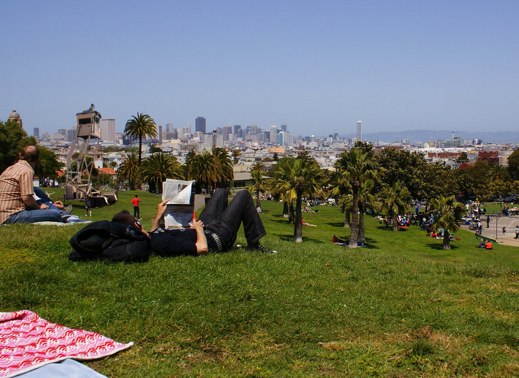 The clampdown is on. First they started denying us our God-given right to Tecate, and now this. SFPD yesterday deployed a mobile guard tower in Dolores Park, apparently in an effort to ward off those who would dare to have a little bit of wine with their hummus and pita.
In today's Mission Station Newsletter, Captain Stephen Tacchini says, "It was not an easy decision, but weighing the rise in instances of vandalism and public drunkenness against the safety of neighborhood families, the call was made. As the weather gets nicer, the crowds get bigger — and rowdier." He goes on to urge us to think of the tower not as a symbol of a move toward police state, but as a temporary and experimental solution to a pressing problem.
Author Stephen Elliott has started assembling a counterattack. His new blog, Free Dolores Park, is leading the charge with a letter-writing campaign, and already has statements up from prominent area business owners.
Now, I love Dolores Park. I love it madly even without a tallboy in my hand. But this is like something out of science fiction. Something must be done. As Elliott's blog reminds us, "It's YOUR Dolores Park."
Photo by David Cole.