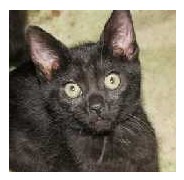 Yeah, it's a cat. He's cute and partially blind and very dependent on his brother, from whom he's been separated, by thieves. Keep your eyes peeled.
Full press release after the jump:
Stolen Kitten: Please Help The SF/SPCA Find "Jack Daniels"
Partially-Blind 3 Month Old Kitten Stolen from Maddie's Adoption Center
San Francisco
WHAT:
Today, July 8, 2009, between 2-3:45 pm PT, three month old kitten, "Jack Daniels," was stolen from The SF/SPCA's Maddie's Adoption Center at 250 Florida St. San Francisco. A description of the perpetrator(s) is not available.
A description of the cat is as follows:
* Color: Black
* Sex: male
* Breed: Domestic Short Hair
* Age: 3 months
* Weight: approximately 3.0 pounds
* Distinguishing characteristics: cloudy eyes (partially blind)
* Neutered
* Microchipped (#982009105787461)
He is a partially-blind kitten, who depends on his brother for many of life's necessities.
He is particularly vulnerable and we are gravely concerned for his safety and well-being.
WHAT YOU CAN DO:
If you have any information, or if you see a kitten fitting this description please contact Kiska Icard, Communications Manager for The San Francisco SPCA, 415.760.4265. NO QUESTIONS ASKED!
WHERE:
The kitten can also be returned directly to The San Francisco SPCA's Maddie's Adoption Center, 250 Florida St. San Francisco, 415.522.3500, which is open daily 11 am-6 pm (Wednesdays 1:00 p.m. – 6:00 p.m.).
(link)