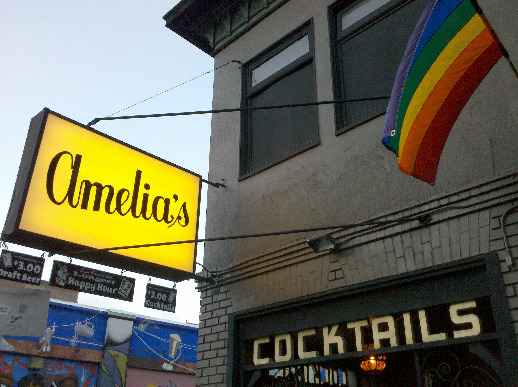 Some of you may have noticed that the regular "Elbo Room" sign had recently been replaced with another older-looking one that reads "Amelia's."  Now, it's back to the "Elbo Room" again.  So, what's going on here?
Well, after talking to some key Elbo staff, it turns out that around 20 years ago the Elbo Room used to be a rocking dyke bar named Amelia's that allegedly would have put the Lex to shame.  Every year when Pride rolls around, they dig the old sign out of storage and install it in front as an homage to the bar's colorful history.  Then, when Pride weekend ends and all the brunches are over, bloody marys flowing in the gutter, they lock it up again and go back to the regular ol' Elbo Room.  So there you go!
History lesson with Professor Sarkarati over!