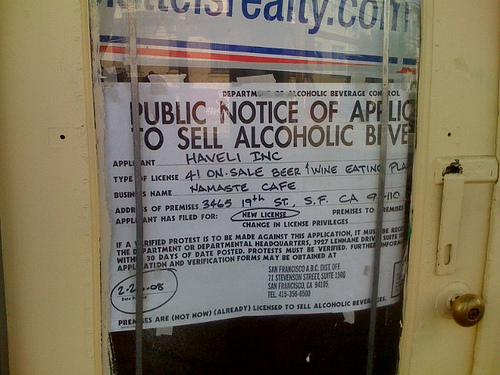 Reader Laurie V. tells us what's up:
Thought you might be interested in this tidbit: I live a few doors
down from the corner of 19th & Lexington (you know, where the lesbian
bar is). There was an old corner shop there that shut down 3 years ago
and has been closed ever since. 2 years ago, construction started on
turning it into a new restaurant — but it never seemed to get it
together. There'd be a burst of construction for a month, then it
would suddenly stop again. As neighbours, we got planning permission
letters every time it applied for a licence, which it did under 3
different names over 2 years. I'd just resigned myself to the fact
that it would never open, but today on my walk home I spotted a bunch
of people drinking inside, so I knocked on the window and asked what
was up. It turns out the place changed hands again last week; one
"Emily" has taken over the lease and says they plan to open in
October, serving "seasonal soul food". I sure hope they do, as it
would be great to have a new restaurant 2 doors away! (To say nothing
of the awesome-in-concept Hog and Rocks, which looks like it is nearly
ready to open)
Yum! Thanks, Laurie!
Hella old photo by Seldo.