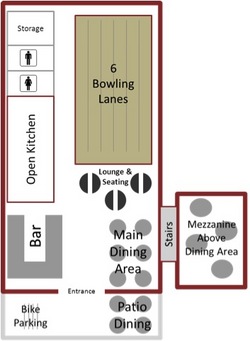 First we heard about the concept and saw Mission Bowling Club's floorplan, then we heard the epic news that Chef Anthony from Mission Street Food and Mission Burger will be doing the food. Today, the Examiner revealed the forthcoming establishment's proposed location, 17th and South Van Ness.
Moreover, a couple of our Supervisors are giving the project a push:
Bowling and boozing — two inherently related activities — are the subject of city legislation designed to clear the way for a proposed new six-lane alley and bar-restaurant in the Mission district.
Supervisors Jane Kim and Scott Wiener want to tweak the planning code to make way for the new locally owned business, which wouldn't otherwise be allowed because past problems with the area's drinking culture prompted restrictions on new liquor licenses.
Read on. Hmm. I wonder what other killer concepts might emerge in the wake of these tweaks…
(Thanks, David!)