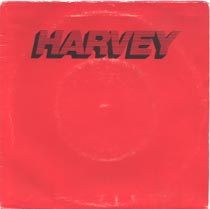 Scott Soriano's Crud Crud today takes a look back at an early-'80s San Francisco band called Harvey:
Harvey were a San Francisco band made up of the three Harvey brothers – Doni, Regi, and Chris. They were responsible for on 45 and one 12″ ep. Both are solid records – Blue Oyster Cult/Thin Lizzy-influenced hard rock, with punk energy and compactness. Listen to this song and guess why no major label took a chance on them: Three brothers with a great hard rock sound. Now consider this: The Harvey brothers are Black and being a Black rock & roll band in the 1980s was considered marketable. Was this an example of racism in the music industry? Perhaps a bit, but remember, Arista took a chance on the Bus Boys and, despite heavy marketing and a lot of media, they never really took off. The industry figured, they tried and people weren't ready. And, to be fair, they were probably right. Black rock & roll bands were so uncommon – in the mainstream – that they weren't a novelty; they were a rarity. And outside of a few major cities, it was rare to see African Americans at rock concert, as fans.
Read on for more history and a free mp3.