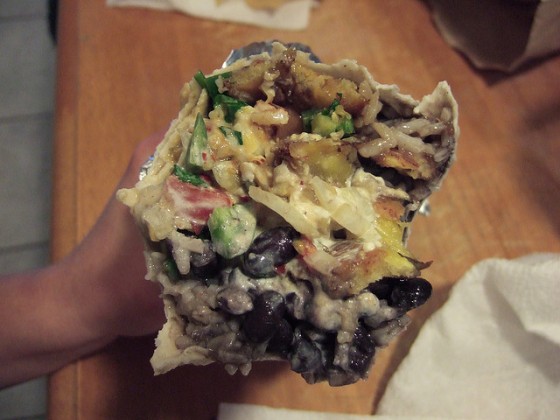 UPDATE!!!  CUCO'S is now open on Saturdays!  Get thee there now!
There's always a ton of bluster on the internet over the quest to crown the best burrito in the city, but somehow lost in the discussion among the heavyweights such as El Farolito, Papalote, and Cancun stands the family-owned and operated CUCO'S in the Lower Haight.  Here, you can find the greatest veggie burrito ever imagined, a fried plantain masterpiece that's so good it's even been known to force renowned carnivores to rethink their status.  Despite being one of the aforementioned meat-eaters myself (although my Okcupid profile might read "mostly vegetarian"), I have no qualms with stating that this burrito rivals a super al pastor from Farolito or mole-what-have-you from Papalote solely based on its own merit.  But don't just take my word for it; check out what the experts at Burritophile have to say:
In no uncertain terms, Cuco's plantain burrito is the best vegetarian burrito in the city. Maybe the world . . . If you're really lucky, Mrs. Cuco will cook the fruit long enough for the edges to get carmelized — chewy, sweet goodness . . . The fruit lends an element of flavor and texture to the mix that you just don't find in most grilled veggie burritos. The sweet, earthy taste of the plantains is a perfect match for the rest of the ingredients.
He's also not kidding about the Mrs. Cuco part.  This is a real family-owned venture, with the Mrs. Cuco handling the plantains while her daughters help with the other stuff.  I believe I've even caught a glimpse of Mr. Cuco back there too.  The orders are always taken with a smile, and they take the time to make sure you get all the options right.  Mrs. Cuco will usually even offer a playful verbal jab if elect to go with the non-spicy salsa!  She'll usually remember you as well, and will often inquire about the well-being of your friends or family if you come in alone when she's used to seeing you with a specific group.  This might sound rather banal, but it really goes a long way to contribute to the family atmosphere of the place.
The price is also splendidly cheap, which brings us to the one drawback: the limited hours of operation.  Owing to the family-run nature of the place, you can only get a CUCO'S burrito from 12pm-9pm Monday through Friday, as the taquerestaurant is closed late night and on weekends.  Nonetheless, you'd be doing yourself a severe disservice to live in this city without trying the plantain burrito at least once.  I know what you're thinking: "The best burrito in the city is a veggie burrito from Lower Haight?"
Well, yes, it is.  Now do it to it.
[Burrito photo by dapperdanj]