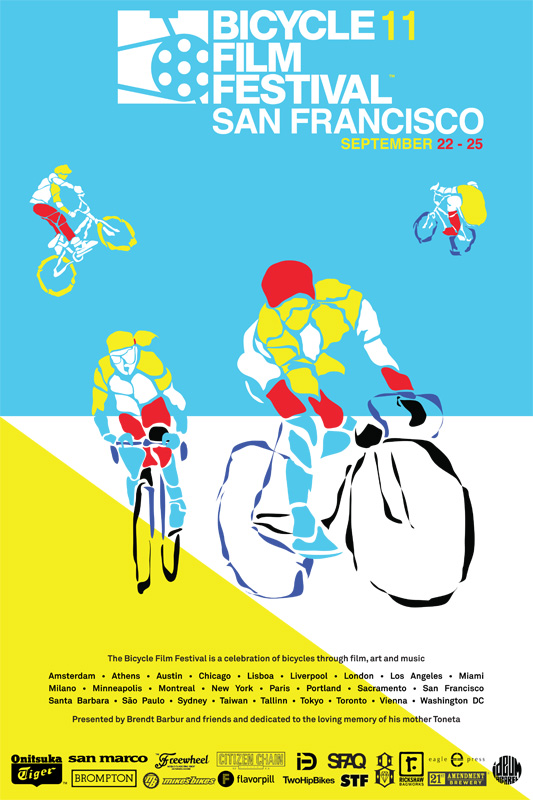 As usual, the Bicycle Film Festival promises to be quite a festival this year. Nora from the fest gives us the rundown:
In addition to some great film screenings at the Victoria Theatre (Bill Cunningham New York, Red Hook Crit, and With My Own Two Wheels) on Saturday 9/24 we are throwing a huge BFF street party in the heart of the Mission, at Capp between 16th & 17th.
That evening there will be a free Bikes Rock! show featuring HOTTUB, and several parties in and around the Mission throughout the weekend.
There's also a bike ride led by the one and only Mike Giant. We'll have flyers for all these other parties after the jump, but first let's have a look at the Saturday afternoon film programs at the Victoria Theater to which you can win a pair of tickets:
12:30 WOMENS SCREENING BY WOMEN ABOUT WOMEN [more]
2:30 FUN BIKE SHORTS [more]
4:30 WITH MY OWN TWO WHEELS [more]
To win, post a picture of you and your bike on our Facebook wall and indicate which screening you'd like to attend. We'll pick a winner at random. Contest ends Wednesday at 5pm. Note that you can only choose from the three programs on Saturday afternoon.
To buy tickets, see here.