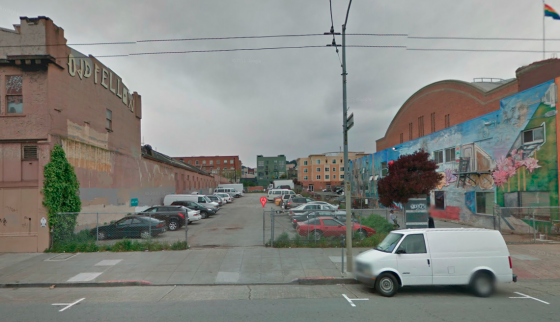 1880 Mission starts construction starts tomorrow. It  will be a 6-story "market rate" (expensive-as-fuck) residential building:
The $60 million, 230,000-square-foot mixed-use project will provide much-needed workforce housing: 202 residences –a mix of studios; one-, two- and three-bedroom homes; and, penthouse lofts. Also included in the six stories of wood over concrete building is 7,502 sq. ft. of street-level retail space and 155 below groundparking spaces, as well as amenities such as two interior landscaped courtyards, community garden, multimedia fitness facility, bike workroom and secured bike parking or each unit.
The proximity to the Armory will be a plus for you kinky types. Maybe you'll even get a window-level view!
The groundbreaking is tomorrow at 2pm, in case you want to protest the fact that more valuable parking spots are being taken away from our fair city.
Update: Mr. Eric Sir pointed out that the building rendering is available online and is "ugly as shit", an opinion which I will further demonstrate by sloppily scaling up the microscopic source image here: