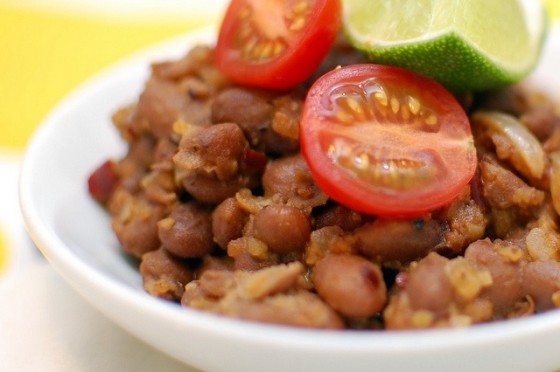 Remember Mexican jumping beans? Kids on the block used to come home from vacation with them. They'd bring them out to the street and everyone would stop hula-hooping or pretending to be a ninja turtle and gather around in wonder and amazement. Can you get those anywhere in the Mission?
In honor of Leap Day, I tried to think of a vegan food that conjures bouncy images, since obviously frog legs and kangaroo jerky are off the menu for me.
These beans obviously are not real Mexican jumping beans, which are neither beans nor vegan (discuss!), but they are spicy enough to give you a little spring in your step. The amount of chili in this recipe won't make your life flash before your eyes, but if you tend to like things a little milder, count out 10-15 chilies and leave it at that.
Recipe after the jump:
Mexican Jumping Beans
Peanut salsa
· 4 Tbsp Canola oil
· ¾ peanuts
· ¾ cup (or 20-25) dried red chili peppers, stems pulled off. You want the ones that are about the size and shape of crayons and come in the huge plastic bags.
· 4 cloves garlic, smashed with the flat side of a knife
· 1 tsp salt
1. Heat the oil in a large skillet or wok over high heat, then the chilies, peanuts, and garlic. Careful! They might explode a little and you don't want them to do that in your eyes.
2. Fry for about 5 minutes, until the chilies pop a little and the peanuts are browning.
3. Remove from heat and transfer the mixture to a food processor or blender. Add salt and then process until combined but still a coarse cornmeal-like consistency.
Beans
· ½ medium white onion, diced
· 2 cups pinto beans
· ½ cup peanut salsa
1. Sauté the onion in the same skillet you used to cook the salsa ingredients; there should still be enough oil in it that you don't need to add any more.
2. When the onion is translucent, add the beans and salsa and heat through.
Put some on a tortilla with some shredded cabbage, a slice of avocado, and a squeeze of lime, and anticipate a major life change.