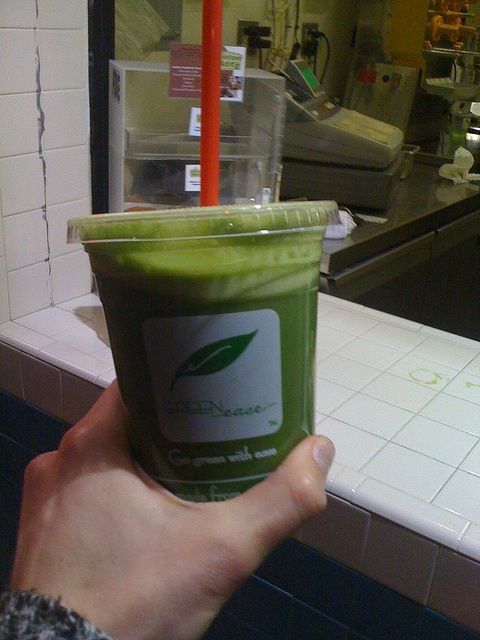 Have you ever noticed how when someone else makes a sandwich for you it tastes better than if you made it yourself? Even if your sandwich-making companion puts exactly the same stuff in the same amounts as you would, it just tastes better when someone else does it.
The same principle holds true for juice. I'm a big green juice fan (exhibit A) and I have a Jack La Lanne power juicer (yup) which I use regularly, but I still find myself drawn back to Sidewalk Juice every month or so to partake in the holy ritual of buying a green juice and then walking down Lexington to see if the disco ball is lit up. (It wasn't today.)
SWJ is so rad. Even since they took down the little drawings of all the employees, I still love the establishment and all the sometimes-stoney employees. Also, they have frequent buyer cards, so you get every 11th juice free. Today José took this photo of me so you can see how happy I am about their continued neighborhood presence.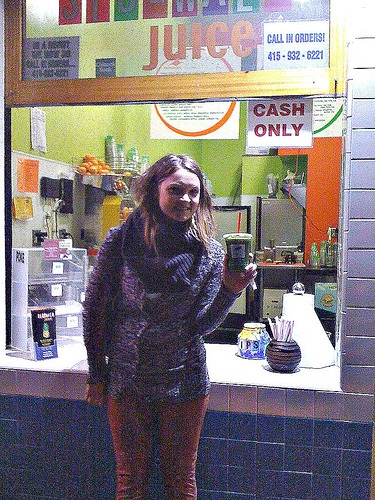 On the way home I saw this guy in an elaborate camouflage coat having an extremely heated conversation about vegetarian spaghetti sauce.