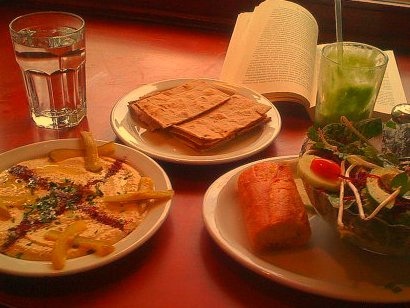 The first time I ate at Herbivore, I left deeply skeptical of the enterprise. I ate lunch there with an ex-boyfriend (amicable, but still), on a rainy day between two job interviews (neither of which panned out), so looking back, I probably wasn't in the best state to be critiquing my cuisine. The space was dark and cold, and the most memorable dish I had fell squarely into the category of mediocre. After that lunch, I made up my mind that the only thing Herbivore had going for it was that it was vegan. I was like, "What is this place even doing here?"
I heard they had revamped their menu lately so I decided to give it another shot.
Started with a small green juice, which was good and, at $3.95, was definitely cheaper than Sidewalk around the corner.  (Though I still like SWJ's a little better.)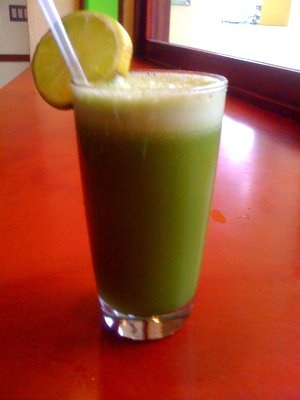 I was in the mood for a simple dinner, so I got a salad and a side of hummus.
The salad had lots of fresh greens and perfectly ripe avocado. Thumbs up.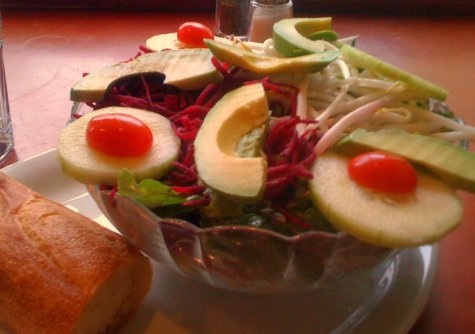 Now, for my money, Old Jerusalem has the best hummus the Mission has to offer, but this hummus was still very flavorful and it came with these adorable pickle crosshatches: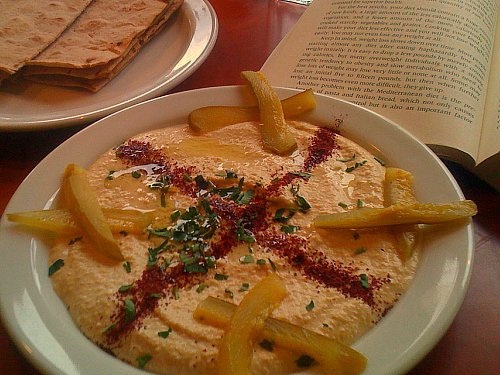 So, here's the deal: if you have the time and energy and daylight and sunshine to run around to make your own salad and then pick up juice and hummus from different locations, you can probably get better options.
But Herbivore has everything in one place with friendly, attentive yet not intrusive, and remarkably well-paced service. My server ran outside after me when I left my umbrella inside (I do stuff like that a lot). It's clean and quiet and reasonably priced and no longer freezing.  It's exactly the kind of thing I want to eat on a Monday night after a boozy weekend, or after getting off a plane.
Glad I gave it another shot. I'm going back and looking forward to it!