If you haven't spent the last couple weeks bumming that the Fog Bender discontinued both his blog and Twitter account, it can only be because you've never seen the Fog Bender's blog and Twitter account — and now you never will (except for the numerous hijackings we managed to pull off).
But! The good news is the Fog Bender is hard at work on a new regular series of comic strips and other work, and we're thrilled to announce WE GET TO PUBLISH THEM RIGHT HERE ON MISSION MISSION!
Here's the first, a humble intro to our protagonist: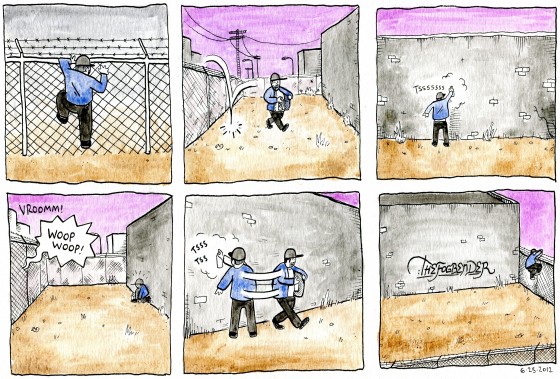 Can't wait for more? Check out this message from the man himself:
i wanna paint more murals. after painting in clarion last week, i have got the itch. please write me if you have a dumb blank wall that needs fogbending. thefogbender@gmail thankees <3
So, be sure to take advantage of that.