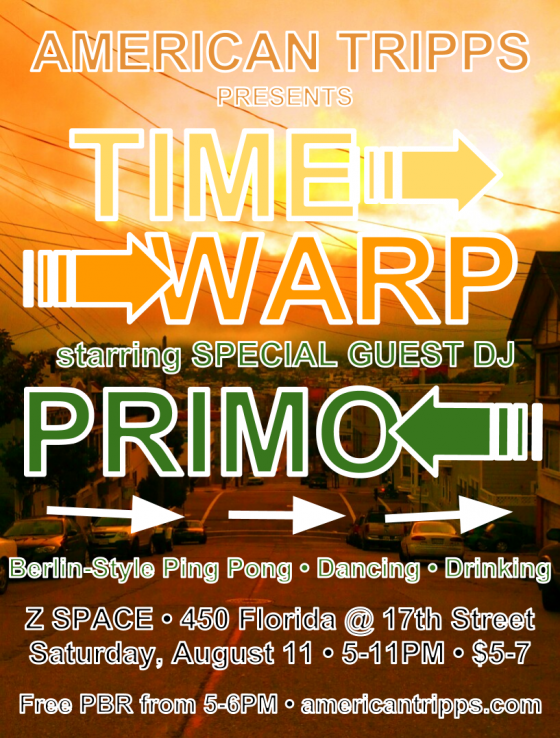 American Tripps is growing up so fast! From the official invite:
➠TIME WARP➠
starring
➠PRIMO➠
This party marks American Tripps' 1-year anniversary, so we figured to make it really special we'd better get Primo (Oldies Night, Nightbeat, Slow Jams, 2 Men Will Move You, Soft Opening). Here's the rundown:
• FREE PBR from 5-6pm
• Time warpy stuff on the big screen
• Four ping pong tables
• Primo on the decks from 8-11pm
• Plenty of dance floor
• Food carts outside
• After party at Coffee Bar across the street
And now, Primo tells us what this whole "TIME WARP" business is all about:
A DANCE TRIP THRU DECADES OF THE CRAZIEST DANCE MUSIC FROM THE '50s thru PRESENT DAY!
A one time only dance event all vinyl TIME MACHINE PARTY
Starting with the raw r'n'b and rock 'n' roll of the 50′s and sixties moving through rare sixties soul and motown with a layover in psychedelic funk and the soulful sounds of '72 before we board the disco train with a stop in the disco of italy and Europe for some sounds of the truly cosmic variety ultimately culminating in a crazy wall of chicago acid house and present day rave sounds, ALL IN 3 SHORT HOURS……! NOT 2 B MISSED!!!
Yup! RSVP and invite your friends!
Oh and if you still haven't seen how this party works (or what an amazing space Z Space is) here are a pair of sick animated GIFs (courtesy of Ulla Havenga / Z Space):