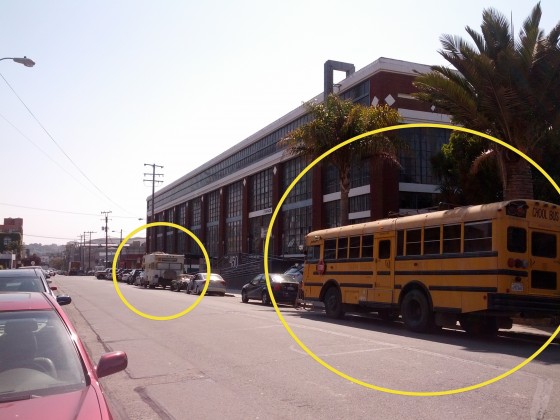 Mission Local reports:
Oversized vehicles that line the streets of the Northeast Mission will have to start parking elsewhere after the Board of Supervisors approved a law on Tuesday that prohibits them from parking overnight.
Over objections by homeless advocates that the law criminalizes the poor, the Board of Supervisors passed the ordinance 7-4. Supervisors John Avalos, Jane Kim, David Campos and Christina Olague cast the dissenting votes.
Starting March 1, any vehicle that is 22 feet in length and 7 feet tall will be banned from parking overnight on certain city streets from 2 a.m. to 6 a.m. or risk being fined or towed.
In the Mission, the SFMTA intends to install signs prohibiting oversized vehicles from parking on 16th and 17th Streets between Harrison Street and Potrero Avenue.
Just 16th and 17th? That leaves a LOT of other streets, right? (Such as Florida, seen above.)