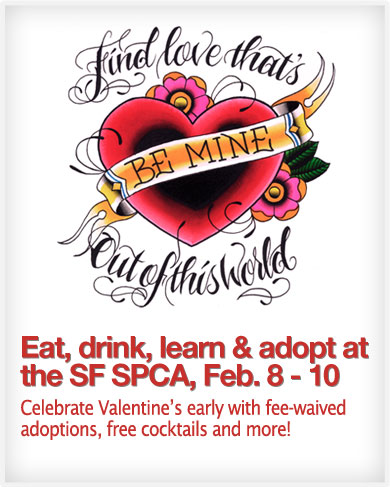 The SF SPCA is holding its annual Be Mine adopt-a-thon, and kicking it off with a cocktail party on Friday, February 8. This is pretty much the best Valentine's Day thing you can go to in the city.  Not only is there an open bar (last year, a friendly volunteer poured a VERY generous whiskey on the rocks in a plastic cup for me), but you can also get a $40 tattoo and adopt a new furry friend! All adoption fees will be waived all weekend (Feb 8-10) for animals from the SF SPCA, SF Animal Care & Control, Muttville Senior Dog Rescue, and Family Dog Rescue. Last year I got a little TOO much plastic cup whiskey and got verklempt over the existence of cats and how wonderful they are. Be careful. You might get weird.
You can also bid on the next tattoo to grace the skin of two SF SPCA employees. One of these employees is Daniel Quagliozzi, the Mission's resident cat behavior specialist. Bidding is now open! What will Daniel end up with? A satanic Hello Kitty?  "CAT LYFE" in Olde English across his neck? Find out on Friday! The party starts at 4:30pm and goes until 9pm.
The Be Mine adopt-a-thon has events throughout the weekend including free workshops and a freakin' Smooch the Pooch kissing booth on Sunday. Visit the SF SCPA Be Mine event page for more details.