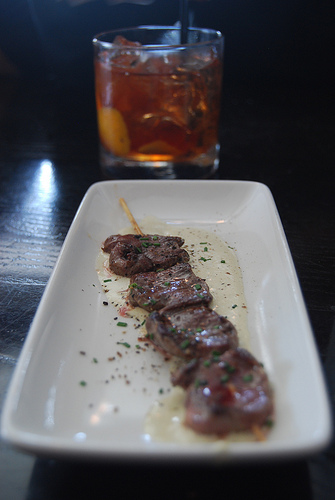 The Old Fashioned at Hog & Rocks (pictured above with a duck skewer) has long been my favorite Old Fashioned , so I'm intrigued bar manager Michael Lazar has added a whole new section to their cocktail menu called "Pimp My Old Fashioned." (Obviously, they always do it the right way: no muddled fruit, no ginger ale, etc.) Here it is:
PIMP MY OLD FASHIONED
Bittered Sling (Eric Adkins) $16
Ch. briat hors d'age armagnac, gum syrup, bitters, grated nutmeg
Anticuado $16
Casa noble reposado, agave gum syrup, orange bitters
Oaxaca (Phil Ward) $16
Tres agaves reposado, del maguey 'minero' mezcal, agave gum
syrup, grapefruit bitters
Kingston $12
Appleton estate 12 yr rum, sugar cane syrup, chocolate &
orange bitters
The Willet 8 $ 15
H&R willet 8 yr barrel strength bourbon, gum syrup, orange
bitters
House Rock & Rye $11
Wild turkey and rittenhouse ryes, rock sugar, citrus, vanilla
bean, horehound
Smoker's Delight (Gonçalo de Sousa Monteiro) $15
Laphroaig 10 yr single malt, tempus fugit creme de cacao, bitters
Can't wait to have every single one! In one sitting! Like a pimp would!
Full cocktail menu here.